No scientific evidence Okra Leaf increases ovulation and chances of conceiving twins (high dizygotic twinning rate)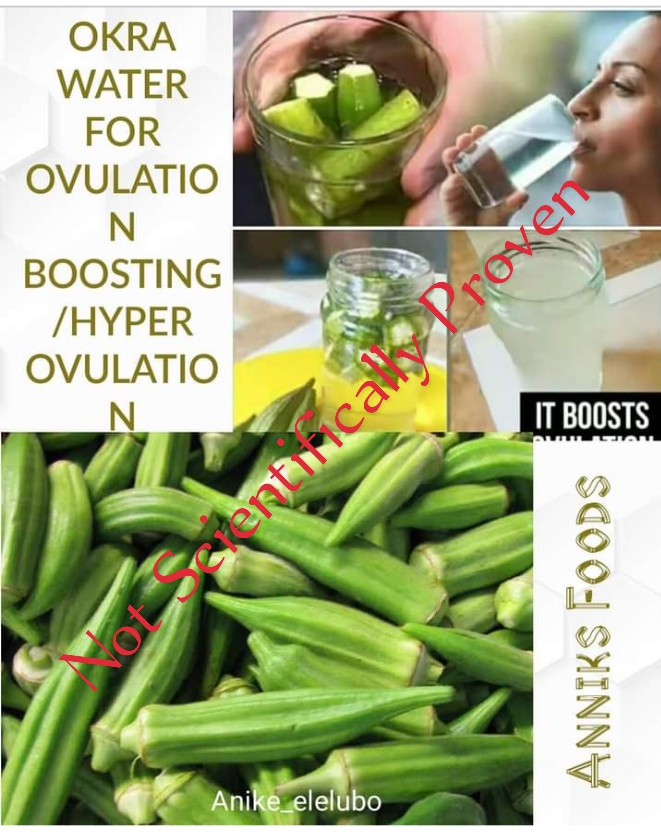 Okra leaf Abelmoschus esculentus also known as lady finger increases chances of conceiving twins. This claim was made by a Facebook post. There were other reports published online claiming Okra leaf causes hyper ovulation for twins.
The Facebook post which was made in August 2021 claimed that lady finger "is used to boost fertility and to increase your chances of having twins"
The Facebook user went to the trouble of explaining how the okra leaf is used for conception; the period of time to use, duration etc.
Claim
The post claimed that okro leaves boost fertility and increases chances of giving birth to twins.
Findings
NatureFact found that the claim is not scientifically proven.
NatureFact carried out research using different keywords like "Okro leaves and fertility" "Okro increasing twinning rate" etc it was revealed that there have been several reports crediting high fertility rate and hyper ovulation for twins to okro leaves consumption.
For instance, PLOS ONE, an online journal in a research about the cause of high twinning rate in Igbo-Ora community in Oyo State, SouthWest Nigeria in December 2020 reported that "Igbo-Ora Community in South-west Nigeria has the highest dizygotic (DZ) twinning rate in the world."
According to the reports, most "participants repeatedly mentioned the consumption of "ilasa" a soup prepared with okra leaves (Abelmoschus esculenta) with water that is obtained from the community, and "amala" a local delicacy produced from cassava (Manihot esculenta) as the most likely dietary factors responsible for twinning in the community."
GhanaWeb another online platform reported that "African women increase chances of giving birth to twins with okra water" the report claimed that many of the women who gave birth to twins in Oyo State could do so as a result of consumption of okra leaves.
A medical blog NimedHealth also published that a particular type of okra leaf in Igbo-Ora community boost ovulation and twinning rate among indigenes of the community. While also backing up the claim that okro leaves generally increase fertility.
NatureFact also found out that apart from the okro leaves, yam (Dioscorea spp) was also claimed to be responsible for multiples in birth. This was found in a Facebook post made on a page by Mums Babies and Ovulation. The post claimed that yam increases admonished those desiring twins to include yam in their diet.
"If you are planning to have twins, you will have to make a few changes to your diet. If you have always dreamt of having twins, eating the following foods may make your dreams come true. Below are the list of foods to increase your chances for twins.
"Research shows it was observed that the Yoruba tribe in Nigeria has a high rate of twin births. It was established that the amount of yams (they feed so much on pounded yam) in their diet boosted their ovaries. Yams are a rich source of progesterone and phytoestrogens, and this may lead to hyper-ovulation. Therefore, the high amount of yams in their diet was reported as a probable cause of twin or multiple births," the page claimed.
While it is not clear what type of okro leaf increases fertility and hyper ovulation for twins, NatureFact made some research into the claim and also consulted with experts in the field of gynecology to find out the linkage.
"Double pregnancies occur either when a fertilized egg is implanted in the uterine wall and develops into a zygote which splits into two embryos, in which case the offspring results in "identical twins;" or when two eggs are produced and fertilized and implanted in the uterine wall separately, in which case the offspring results in "fraternal" or "non-identical twins.
The National Library of Medicine (National Centre for Biotechnology Information) of the United Nations reported that since the same food (Okro and Yam) is being consumed in other part of Nigeria, there is need for further scientific studies to prove the veracity of the claim.
"Since the same foods are consumed in neighboring communities that have lower rates of twinning, we conjecture that nutritional and other environmental factors may produce epigenetic modifications that influence high DZ twinning rates in Igbo-Ora community. We conclude that more directed scientific studies based on these findings are required to further elucidate the etiology of the high rate of DZ twinning in Igbo-Ora," NLM reported.
Verdict: Not scientifically proven