NGO trains journalists on child focus climate change reportage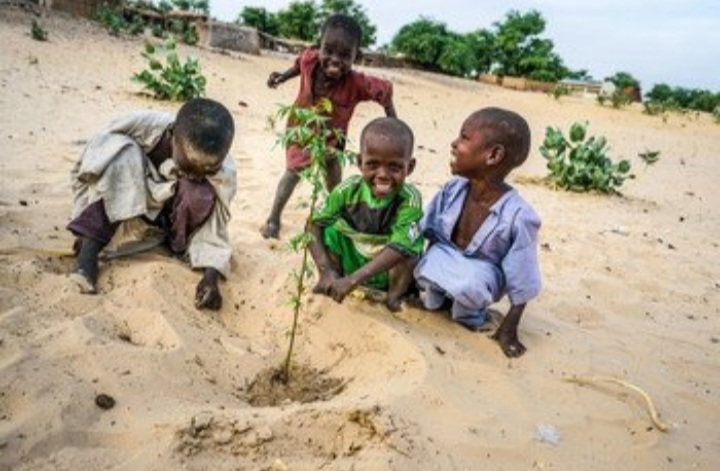 Save the Children International (SCI), Nigeria, on Wednesday, began a three-day training of journalists on climate change and its negative impact on children.
The participants were drawn from various newsrooms across SCI programme implementing states.
Mr Innocent Ifedilichukwu, Advocacy, Campaign and Policy Manager, Survive, SCI, said during the training in Zaria, that the goal was to improve the quality of media conversation and advocacy around climate change.
Ifedilichukwu added that the capacity building on climate crisis and action, also aimed at finding ways to protect children from the adverse effect of climate change and how to champion their course.
"Save the Children International understands the role of the media in telling stories, sharing impactful work, and ensuring sustainable action from various stakeholders.
"The training, therefore, is to enhance their understanding on issues related to climate change.
"It is also to improve media reportage, quality of interviews, articles and stories on climate crisis and actions, especially linking it on how it affects the wellbeing of children," he said.
He explained that the training was in line with the organisation's five-year global campaign tagged, "Generation Hope Campaign".
He explained that the campaign was to improve climate actions and secure commitments from government, stakeholders, and partners, to increase climate finance, including investment in child-sensitive interventions.
He added that the campaign was also designed to increase investments in shock-responsive social protection, to build climate resilience for children, their families, and communities.
"It is also to elicit political commitments and accountability from actors to address the eminent climate crisis, limit global warming, and promote mitigation and adaptation strategies," he said.
He described climate change as a "long-term shift in temperature and weather patterns" mainly caused by human activities, especially the burning of fossil fuels.
He said that climate change was responsible for the rise in temperature and other extreme weather conditions, variable rainfall, rise in sea level and flooding.
Other issues, he said, included drought, desertification, and land degradation impacting on freshwater resources and loss of biodiversity, among others.
This, according to him, has been a cause of concern, especially for vulnerable women and children who were the most affected by the impact of climate change.
Also, Mr Joseph Apeh, Advocacy and Campaign Coordinator, SCI, who spoke on the effect of climate change on education, argued that climate change was a major contributor to the number of out-of-school children in the country.
According to Apeh, education is a right, stressing that climate change should be allowed to rob children of such rights.
He stressed the need to carry children along in addressing climate change issues, adding that they bear the brunt of the challenge.
"Our changing climate is threatening children's learning, health, wellbeing and safety. Today more than 175 million children globally are out-of-school due to climate change related disasters among other factors," he said.
Also, Mr Farouk Abdulkadir, Advocacy and Campaign Coordinator, SCI Kaduna, pointed out that climate change was negatively affecting the health and wellbeing of children.
According to him, the media needs to step up reportage on the connection between climate change and child health, nutrition, and food security.
"This will reduce maternal and child mortality to climate change induced illness, psychological and mental wellbeing of children."
On her part, Ms Rhoda Ndahi, Acting Media and Communications Manager, SCI, who spoke on the adverse effect of climate change on child protection, called for media support to hold duty bearers to account.
She explained that has been providing life-saving humanitarian assistance, including clean water supply, food, nutrition, protection services, sexual reproductive health care and education to families across the country.