Ploggathon Abuja Marks World Clean-Up Day with 10km Marathon and Clean-Up Event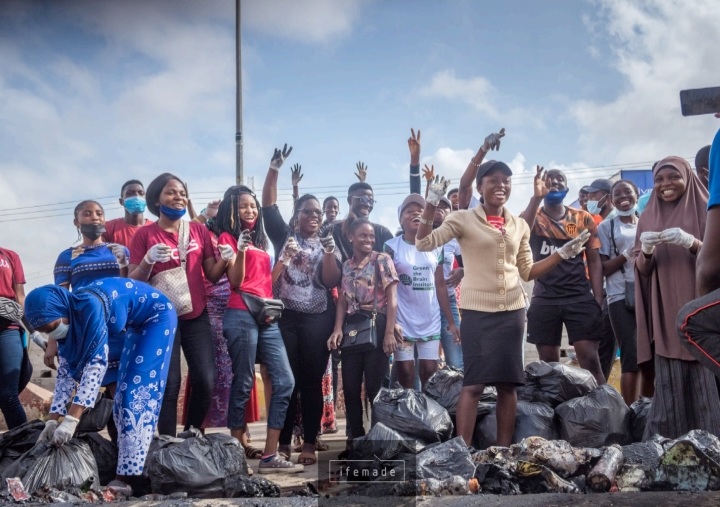 By Faridat Salifu and Rashidat Oladele
In commemoration of World Clean-Up Day, Ploggathon Abuja hosted a memorable 10km marathon and clean-up event on September 16, aptly themed "Ploggathon: Racing for the Planet."
This remarkable event not only promoted physical fitness and community camaraderie but also ignited crucial discussions surrounding climate financing in Africa and the consequences of climate-related loss and damage.
With the valuable support of esteemed partners, including the Embassies of Sweden and Denmark, CJID, Rotaract, Clean Tech Hub, Eco Smart, and Recycle Abuja, Ploggathon Abuja brought together individuals united by a shared commitment to environmental sustainability and climate consciousness.
Set against the picturesque backdrop of Jabi Lake, participants converged to engage in a waste clean-up initiative, ensuring their actions contributed to environmental preservation rather than pollution.
The 10km marathon commenced at Jabi Lake, leading participants on a journey that culminated at the Moshood Abiola National Stadium.
Diverse participants, including representatives from governmental parastatals, non-governmental organizations, and NaturesNews, enthusiastically embraced the dual challenge of walking and cleaning along the marathon route.
Along the way, Plogging Nigeria thoughtfully provided canopies stocked with glucose and water to keep participants energized and motivated. Flags demarcated various zones along the route, ensuring that no one lost their way en route to the finish line.
Inside the Moshood Abiola National Stadium, attendees were treated to a deeper understanding of the significance of World Clean-Up Day.
Ayodeji Omilabu, the Administrative Director of Plogging Nigeria, recounted the inception of plogging in Nigeria in 2018, and it's subsequent outreach to 24 Universities across the country to promote a greener and more environmentally friendly society.
Mrs. Felicia, a representative from CJID, underscored Ploggathon's mission to raise awareness about effective waste management and its unwavering commitment to a waste-free world.
She highlighted the adverse impact of indiscriminate plastic and nylon waste disposal in Nigeria, which significantly contributes to pollution and carbon dioxide emissions.
Mrs. Carina Greiff, Deputy Head of Mission for the Embassy of Sweden, emphasized the urgent need to address the issue of plastic waste disposal in Nigeria.
She emphasized the importance of responsible waste management practices in fostering a cleaner and more sustainable nation.
The event also featured enlightening lectures on innovative waste management approaches, including the utilization of Internet of Things (IoT) technology for monitoring waste bin levels and the introduction of smart waste bins that encourage proper disposal.
This platform encouraged tech professionals to explore innovative waste management solutions that could benefit society at large.
The culmination of the event saw closing remarks from a Ploggathon representative who commended all participants for their commendable efforts.
Certificates of participation were awarded to all attendees, and prizes were presented to the first runner to reach the stadium and those who collected the most waste. Refreshments were generously provided as participants bid adieu, eagerly anticipating next year's World Clean-Up Day event.
Ploggathon Abuja stands as an exemplary testament to the unwavering commitment to environmental stewardship and community engagement, serving as a beacon of collective action to safeguard our planet for generations to come.