IFC Commits $200M to Sustainable Agriculture, Eco Construction in Morocco.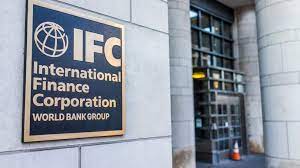 By Faridat Salifu
During the Annual Meetings of the International Monetary Fund (IMF) and the World Bank, held recently in Marrakech, Morocco, the International Finance Corporation (IFC), the private sector financing division of the World Bank Group, announced a significant commitment of $200 million to support various projects in Morocco.
This funding will be allocated to boost agriculture, eco-friendly construction, and environmentally responsible fertilizer production. Notably, half of this financial injection, amounting to $100 million, will be in the form of a loan to the Office Chérifien des Phosphates (OCP), a prominent producer of phosphate-based fertilizers. OCP intends to utilize this funding to advance its solar initiative and contribute to sustainable food systems.
OCP's solar program encompasses the development of four solar photovoltaic power plants with a combined capacity of 202 MWp near the mining towns of Benguérir and Khouribga. In the next phase of this program, OCP plans to construct two significant solar photovoltaic power plants, one with a capacity of 301 MWp, along with a 100 MWh battery electricity storage system. The financial backing for these projects is estimated at $380 million.
Ciments de l'Afrique (CIMAF), a Moroccan cement manufacturer, is another recipient of this funding, securing a $45 million loan to bolster the production of low-carbon cement in Africa. This loan aligns with CIMAF's parent company, Omnium des Industries et de la Promotion (OPI), in its pursuit of carbon neutrality by 2050.
CIMAF's strategy involves the production of calcined clay as a sustainable alternative to clinker, the primary component of cement. They also plan to equip their cement plants with photovoltaic solar power facilities at several locations across Africa.
Additionally, the IFC has announced the establishment of a $36 million risk-sharing mechanism with the Banque Centrale Populaire (BCP) and the Compagnie Marocaine de goutte-à-goutte et de pompage (CMGP) to support sustainable agriculture in Morocco, particularly in areas affected by seismic activity. Furthermore, the IFC, under the leadership of Senegalese executive Makhtar Diop, is investing €10 million in partnership with Mediterrania Capital in Moroccan financial services provider Cash Plus to promote financial inclusion in Morocco.
This significant commitment by the IFC underscores the organization's commitment to fostering environmentally responsible initiatives and sustainable development in Morocco.