Nigerian Ginger Exports Is Continuously Rising – Report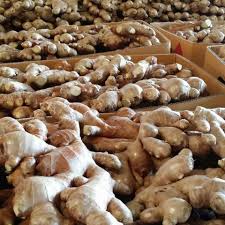 By Yemi Olakitan
When compared to the same period in 2022, Nigeria's revenue from Ginger exports grew by 17% to N10 billion in the second quarter of 2023.
The crop's export value for the nation has been continuously rising, according to data from the National Bureau of Statistics. In the same period of 2019, ginger exports climbed from N1.13 billion in Q2 2018 to N1.24 billion.
It grew from N1.57 billion in Q2 2020 to N3.75 billion in Q2 2021. The trend continued in 2022 as the crop's export revenues increased to N4.6 billion. It rose to N10 billion in Q2 2023.
According to Mikah Adamu Sule, deputy president of the National Ginger Association of Nigeria (NGAN), "some of the improvements realised in foreign exchange earnings owe to the improvements made by ginger farmers to make the crop cleaner and more attractive for exports."
Despite its record N10 billion export value in Q2, which was the greatest in six years, Nigeria, the largest producer of Ginger in Africa and the second-largest in the world after India, is only reaping a little portion of the $3 billion global Ginger market.
"It would make sense if more ginger were cultivated, and facilities were set up locally to handle a portion of the produce while the surplus was exported. According to ginger farmer Ugochukwu Ideato, this will increase revenue as well as produce riches and jobs.
To extract ginger oil, I believe we need processing facilities. The worth of one tonne of ginger oil is 35 times greater than that of one tonne of ginger alone, according to research I conducted last week, claimed another Twitter user, Bayode Tegbe, referring to the necessity of value addition to increase export potential.
According to Kelvin Emmanuel, CEO of Dairy Hills, Nigeria exports extremely valued agricultural items like cocoa and ginger for free while spending billions to import their refined products back home.
According to him, Europeans purchase ginger from Nigeria for $2,000 a tonne and receive a 35-fold return by turning it into ginger oil.
According to data from the Ministry of Agriculture, Nigeria's ginger output is estimated to be 31 million metric tonnes, while consumption is estimated to be 65 million MT, creating a 34 million MT supply-demand mismatch.
In Asia, Europe, and America, ginger is a very popular product. The root crop is increasingly in demand on the local and international markets since it is commonly utilised in food spices.