FG is boosting non-oil export to broaden economic diversification – Katagum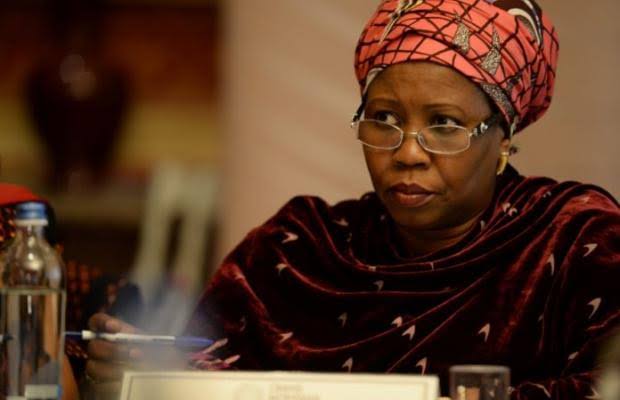 Amb. Mariam Katagum, Minister of State for Industry, Trade and Investment says Federal Government is taking steps toward boosting non-oil sector to broaden the scope of its economic diversification programme.
According to her, since there is a positive long run relationship between exports and economic growth, Federal Government now concentrates on exportation of finished goods.
She said this was an improved domestic manufacturing industries enhance productivity and increase employment, which in the long run would increase economic growth and development.
"Economic growth has a lot to do with how much you are able to bring and export to other countries and how much investment you are able bring.
"This year the price of crude oil started falling and by February, we had our first case of COVID-19, and that greatly affected the Nigeria economy.
"Ours is an economy that heavily relies on oil, so early this year, the president gave specific directives for this administration to move away from oil and go into non-oil sector.
"Government is fully committed to effectively reactivate the non-oil export sector to broaden the diversification of the economy's export sector and increase employment opportunities which will in turn make balance of trade favourable, "she said.
The minister said that the Federal Government was taking practical steps toward creating an enabling business environment and opportunities to attract investors into the non-oil sector.
She said that efforts were underway for the development of six Special Economic Zones (SEZs) across the country and establishing of one Agro-Processing Zone in each Senatorial District.
She said that the government was seeking to enable the development of Nigeria's export trade through risk mitigation, export credit services, lower transaction costs, and export financing on better terms for exporters.
"There is also the Export Expansion Grant scheme that was introduced to accelerate export volume and enable exporters to diversify their export products and market coverage thus improving global competitiveness of Nigeria products."
Katagum said the President Muhmmadu Buhari-led Government, through the Presidential Business Enabling Council (PEBEC) had created enabling environment to attract Foreign Direct Investment.
"We looked at the bureaucratic bottlenecks and what is it that investors are complaining about when they are coming into the country because they say our visa processes are too long.
"So, one particular section was dedicated to what happens at our airports from visa application to arrival, how the processes can be made friendly for investors.
"Eventually, we now have a regime when visas are given on arrival, and we have also introduced reforms in relevant government agencies that remove administrative bottlenecks.
"At the CAC, you can now register business within 24 hours without even having human to human contact, which usually brings delay," she said
The minister said that the nations One-Stop-Shop at ports have been revamped and working effectively to attend to investors.
She said that the Federal Government, through the Nigeria Investment Promotion Council (NIPC) had launched the 'Book of State', an investment guild on opportunities that abound in all states across the country.
"They look at each state and the opportunities that visiting investors are likely going to look at in a state.
"There is also what we call the National Trading Platform for which the Nigerian Customs Service is the nucleus; it makes the clearance of containers faster at the ports.
"We are also involved in various trade missions, and recently, I led a mission of relevant stakeholders to Thailand to look at their opportunities and exchange ideas.
"All of these steps promote ease of doing business and contribute to foreign direct investment," she said.