Fact check: How real is climate change?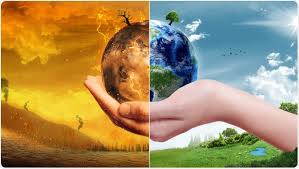 By Daniel Adaji
Despite the overwhelming scientific evidence, some people still question the existence of climate change and whether humans have contributed to global warming. Several posts on social media especially X (formerly Twitter), claim that climate change is not real.
The video was posted on 10 July 2022 at 4:32 AM by @BepicQueensland on X. As at the time of this check, the video already had 97 comments, 1675 retweets, 2582 likes and 181 bookmarks.
Claim: "There is no global warming, no climate change,"
Findings
In an attempt to verify the claim, NatureFact team studied several scientific documents and reports published by renowned scientists and climate activists.
NatureFact found out that climate activists consider the severe drought in Monterrey, Mexico, the deaths after a fracture of the Marmolada glacier in Italy, and an upcoming heat wave across Europe as clear evidence that our world is warming rapidly.
According to National Aeronautics Space Administration NASA, scientific data shows that global temperatures have increased by 1.8°F (1.0°C) since the early 1800s, with most of the warming occurring over the past few years. The Intergovernmental Panel on Climate Change (IPCC) concluded that human activities, especially the burning of fossil fuels, may be the main cause of global warming.
In fact, scientists found that climate change began more than 180 years ago, at the beginning of the Industrial Revolution. The evaluation report of the Intergovernmental Panel on Climate Change also supports this conclusion.
The IPCC reported increasing evidence of extreme weather events such as heat waves, heavy rains, droughts and storms. The report also found evidence of human influence on global warming.
To reduce the negative effects of climate change, the IPCC recommends keeping global warming below 1.5 degrees Celsius by 2100. If this goal is not achieved, the consequences of climate change will become more severe, affecting people and the planet. Sea levels will continue to rise and weather conditions will become extreme.
Claas Teichmann,, a scientist at the German Climate Service, said global warming of 1.5 degrees Celsius means higher temperatures in many places because warm weather is reported more on the continent than in the oceans.
There Is A Strong Scientific Consensus That The Climate Is Changing And That Humans Are Responsible. This has led to an increase in weather extremes such as heat waves, heavy precipitation, droughts, and tropical cyclones, which pose a threat to both humans and the planet.
Verdict: the claim that "There is no global warming, no climate change," is FALSE