Climate Change Spurs Unlikely Coexistence Between Elephants and Humans in Cameroon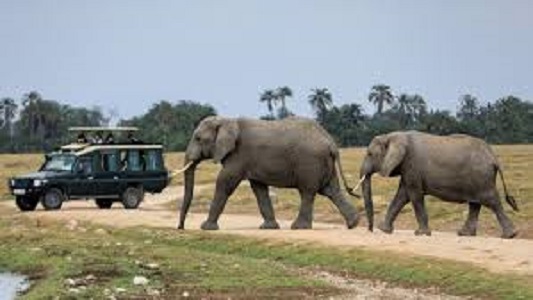 By Faridat Salifu
In the arid landscapes of northern Cameroon, a profound transformation in elephant migration patterns is giving rise to heightened interactions between these majestic creatures and human communities.
A recent and remarkable incident unfolded in Maroua, as four elephants, straying from their herd during migration from Waza National Park, traversed the urban terrain of the town.
This event sheds light on the intricate relationship between climate change and the evolving coexistence of elephants and humans in the region.
The challenging climate conditions in northern Cameroon have induced a notable alteration in the movement of elephants, leading to increased proximity to human settlements.
Escalating temperatures, diminished rainfall, and more frequent extreme weather events drive elephants in search of sustenance, bringing them into contact with communities in the region.
In Maroua, the accidental entry of four elephants into the town from Waza National Park elicited a mix of awe and fear among residents.
While some were thrilled to witness the close presence of these majestic creatures for the first time, the situation swiftly turned distressing as the overwhelmed elephants reacted with agitation.
Tragically, the encounter resulted in the loss of a young woman's life, underscoring the urgent need for understanding and harmonious coexistence between humans and elephants in this changing landscape.
Experts attribute the altered migratory patterns of elephants to challenging climatic conditions, emphasizing rising temperatures and growing water scarcity in the region.
Human activities, including deforestation and settlement expansion, further compound the challenges faced by both elephants and local communities.
Initiatives are underway to address the situation, with Waza National Park authorities digging waterholes to provide essential water sources for the elephants.
Conservationists are actively engaging with local populations, promoting sustainable practices to minimize conflicts with elephants.
Nevertheless, the complexity of the issue necessitates a coordinated approach, integrating national, regional, and local adaptation plans to tackle the underlying causes of these encounters.
The narrative of elephants and humans sharing space in northern Cameroon serves as a poignant reminder of the interconnected nature of climate change and the urgent need for collaborative, sustainable solutions.
As the region grapples with these challenges, there is a resounding call for integrated planning, education, and coordinated action at both international and local levels to ensure a harmonious coexistence between elephants and humans amid a changing climate.