3 kids escape death in Akwa-Ibom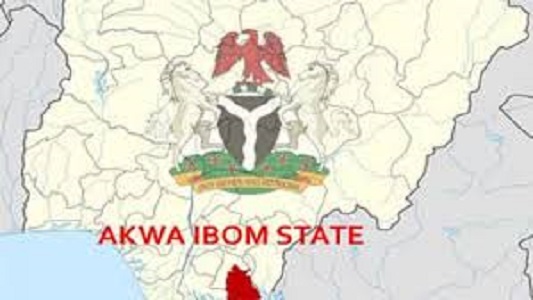 … 200 residents affected in Imo
Three children narrowly escaped death in Uyo, Akwa Ibom State, following a landslide which swallowed up a kitchen and cut off a street into two halves.
The children; nine years old Aisha; Yusuf, six and Fatima Umaru, five had barely left the kitchen on Sunday September 13th night after preparing their dinner meals when the incident happened.
The father of the three children, Mr. Mohammed Umaru is said to be a car dealer and tenant in the affected house.
There have been reports of flooding across the country leading to loss of lives, property and farm crops worth billions of naira.
Mr Umaru said he was in Okoita on Sunday when he received a call that his house had caved in due to the torrential rain.
He said "I received a call from the landlord that the house had collapsed. What I saw was terrible. What we need now is help. Let government do something. I am helpless".
The landlord, Mr Francis Ikpe said the children miraculously escaped being caught in the landslide.
Erosion has been a major challenge in the community for some three decades which was not worsened by the street repairs and construction of drainages by the government.
"Water from six adjoining streets were channeled to the area without a chamber constructed to receive the volume of water," he complained.
We responding to the incident during an unscheduled visit to the erosion area,
"The government is doing everything possible to mitigate the impact of erosion in the state," said the Commissioner of Environment and Petroleum Resources, Mr. Charles Udoh when he visited the scene of the landslide.
He said: "We need assistance from the World bank, the ecological fund and the Federal Government to be able to deal with the problem. The state government alone cannot do this."
Similarly, torrential rainfall on Sunday continued to wreak havoc on Akwakuma area of Owerri North local government area of Imo State.
Two more houses collapsed as a result of the landslide recorded few days before at Trinity street bringing the total houses to four.
Eighty percent of the residents had fled their homes on the advice of officials from the Imo state ministry of environment.
The chairman of the works committee of the neighborhood, Chigozie Nnanna, said the landslide started since 2017 and that government was yet to come to their aid.
Nnanna said that through individual efforts, the neighborhood had expended millions of Naira to remedy the situation to no avail.
He said that apart from the two houses that had collapsed, other houses were on the danger list.
No fewer than 200 residents in the neighbourhood had been affected by the flooding.
One of the trapped victims Mr. Emma Ogu, a lecturer in the department of Mass Communication, Federal Polytechnic Nekede told newsmen he managed to move out his family members through the bushes after breaking a fence on Friday.
Commissioner for Environment, Dr. Iyke Njoku who visited the area with some of the governor' s aides told families affected to relocate temporarily and said that work was about to commence in the area to remedy the situation