World Food Day: NGO wants Nigerians to maximise opportunities in agriculture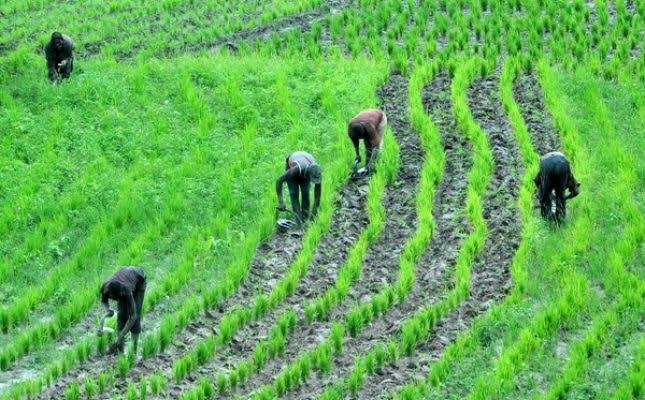 Abundance of Hope Initiative, an NGO, on Friday in Abuja urged Nigerians to maximise opportunities in agriculture.
Executive Director of the organisation, Mr Taiye Sasona, made the call at a two-day training on how to start farming successfully at home and to mark the 2020 World Food Day.
World Food Day is celebrated every year around the world on Oct. 16 in honour of the date of the founding of the Food and Agriculture Organisation of the United Nations in 1945.
The theme for the 2020 World Food Day is "Grow, nourish, sustain together. Our actions are our future''.
Sasona said that increased involvement in agriculture will lead to increased food production and complement government's efforts towards food security in the country.
According to Sasona, "everyone should be encouraged to start small-scale, subsistence-level farming in any aspect of agriculture one can think of, ranging from snail farming, fish farming, gardening of arable crops to mini poultry.
"This way we can move from importing what we eat to producing enough to eat and export.
"No doubt, the recent report from National Bureau of Statistics (NBS) which indicated high cost of food items was as a result of the effect of COVID-19.
"This should serve as a pointer that people must get to farming. We are not doing enough because we are about 200 million people but how many of us are farming.
"Every Nigerian must find one aspect of farming to engage in, we must not wait for the government,'' he said.
Sasona, however, urged governments at all levels to provide the needed infrastructure that would facilitate easy access to food.
"Farmers don't have easy access to the city. Food produced mainly in rural areas do not have easy access to the city.
"Most of them are transported with rickety vehicles and once they break down at best their prices get high and in most cases they spoil on the way,'' he said.
Sasona also urged governments to embrace modern methods of storing foods to ensure they are available at all times.
On her part, Miss Vallen Gimba, Food Officer, Alabukun Farms, urged Nigerians to keep away from artificial foods.
According to Gimba, many health issues are caused by processed foods.
Similarly, Stella Ikeokwu of the Programmes Department Victoria Gold Foundation, an NGO, said that the upsurge of the coronavirus affected Nigerian food system and the effect being felt by Nigerians.
Represented by Mr Abdullai Kassim, Ikeokwu said that restrictions imposed to prevent the spread of the virus caused disruptions in food chain which in turn posed a twin threat of exacerbating poverty and hunger in vulnerable Nigerians.
According to Ikeokwu, prolonged lockdowns and lasting disruptions in global transport logistics nationwide, restrictions on exports and hoarding by importing countries affected global food availability and prices.
"It is important in this regard, that necessary measures are undertaken to ensure that food supply chains continue to flow smoothly,'' she said.
Ikeokwu called for temporary cash handouts to poor farmers as well as grants to restart business and urged banks to waive fees on farmer's loans and extend payment deadlines.