Victims seek help as rainstorm renders many homeless in Kwara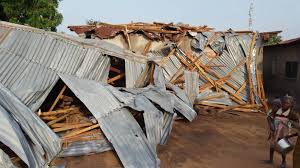 Victims of Saturday's rainstorm in Ilorin have called on the Kwara Government and other emergency management agencies to provide them with succour, as many were rendered homeless.
The victims made the call on Monday in Ilorin in an interview with the Naturenews while recounting the level of devastation the heavy rain and wind unleashed on them.
Alhaji Abdulyekeen Olohuntele, the Chairman of Isala Koko, Sanu Shehu Street in Ilorin East Local Government Area of the state, who spoke on behalf of the victims in the community, said more than 20 houses were destroyed in the area.
Olohuntele urged the state government to quickly provide help for the victims to avert further damage that could arise from another rainfall.
The community leader, who described the incident as unfortunate, asserted that many valuables were lost to the havoc.
Another victim at Ita Ogunbo in Ilorin West Local Government Area, Malam Olayiwola Abdulsalam, said unless an urgent help was provided, another downpour would further compound their woes.
Abdulsalam urged government at all levels to come to their rescue to ameliorate their sufferings.
Mrs Ronke Ibrahim, whose house collapsed at Akerebiata in Ilorin East Local Government Area, also lamented the loss she incurred to the natural disaster.
Aside the destruction of her building, she said that the rainfall also damaged all the property she had laboured for over the years.
She told Naturenews that she was left with nothing again, as the rain washed away all her valuable items.
She, therefore, urged the government to come to her aid; saying she needed government intervention to prevent her current situation from becoming worse.
Naturenews reports that the downpour, which was accompanied by heavy wind on Saturday night rendered many residents of Ilorin homeless.
The rainfall reportedly claimed some lives in the city, including a 14-year-old girl who hawked pepper and tomatoes.
It also led to the destruction of many electric poles in major areas in the ancient town, putting residents in total blackout