US Election 2020: Biden getting better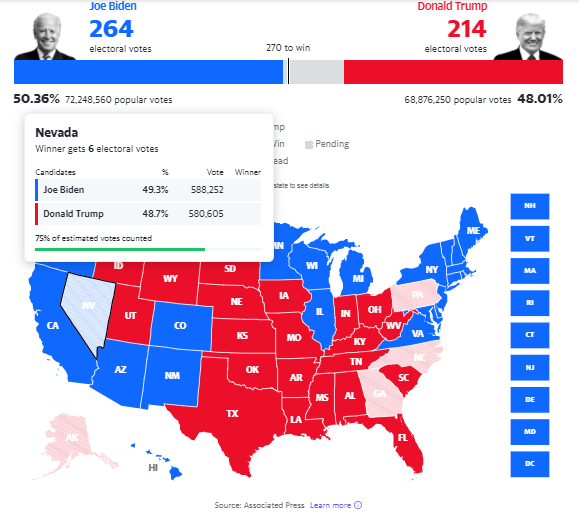 Votes are still being counted in key battleground states in the 2020 elections, with the race between President Trump and former Vice President Joe Biden too close to call.
he Associated Press is not calling the presidential race yet because neither candidate has secured the 270 electoral votes — a majority of the 538 that are up for grabs — needed to claim victory. Millions of ballots are being counted in key states that remain too early to call, including Georgia and Pennsylvania. That didn't stop Trump from falsely and prematurely declaring victory while making baseless claims of fraud over ballots that were legally cast.
While speaking alongside running mate Kamala Harris from Wilmington, Del., Wednesday afternoon, Biden did not declare victory but told his supporters that "when the count is finished, we believe we will be the winners."
The latest on key races:
• Arizona: The AP called Arizona for Biden shortly after Trump declared victory, around 2:30 a.m. ET on Wednesday, angering the president's campaign, which expressed confidence it can still win. Fox News has also called the state for Biden.
• Wisconsin: Shortly after 2 p.m. ET on Wednesday, the Associated Press said Biden had won the Badger State. The Trump campaign has said that it is going to "immediately" request a recount, but a recount cannot proceed until counties have conducted canvasses and results have been certified on Dec. 1. Trump is currently trailing in the state by over 20,000 votes.
• Michigan: At 6 p.m. ET on Wednesday, the Associated Press called the Great Lake State for Biden.
• Georgia: The Peach State is still too close to call, with Trump's lead narrowing as vote counts continue to come in. An estimated 4 percent of the vote remains to be counted, including mailed ballots from counties in the Atlanta metro region that lean Democratic.
• Nevada: Biden had been leading by a comfortable margin on election night, but the race tightened considerably, with Trump pulling to within 8,000 votes as election officials announced that the state was done counting in-person ballots and would pick up the vote count Thursday morning.
• Pennsylvania: Trump holds a narrow lead in the Keystone State, though a final vote total may not be clear for days as mail-in ballots continue to be processed.
• North Carolina: Though Trump prematurely declared victory in the state early Wednesday, this race is too early to call, with thousands of mail ballots and potentially thousands of provisional ballots still left to count.
If Biden holds Nevada, he will have 270 Electoral College votes and be the next president.
Here's where the race to 270 currently stands:
• Biden: 264
• Trump: 214
The following states have been called:
Biden: Vt., Va., Conn., Del., Ill., Md., Mass., N.J., R.I., N.Y., N.M., D.C., Colo., N.H., Calif., Ore., Wash., Hawaii, Minn., Ariz., Maine (3 of 4 electoral votes), Wis., Mich.
Trump: Ky., W. Va., S.C., Ala., Miss., Tenn., Okla., Ark., Ind., N.D., S.D., Wyo., La., Neb., Kan., Mo., Idaho, Utah, Ohio, Iowa, Mont., Fla., Texas, Maine (1 of 4 electoral votes)
Trump campaign to announce another lawsuit
President Trump's campaign is expected to announce a lawsuit in Las Vegas on Thursday morning challenging the vote in Nevada.
The campaign scheduled a news conference for 11:30 a.m. ET as ballot counting in the U.S. presidential election continued in the state.
The Trump campaign, which has already filed lawsuits in Michigan and Pennsylvania to stop vote counting, planned to allege voter fraud in a lawsuit in Nevada, Fox News reported. In Wisconsin, the campaign has asked for a recount.
The news conference will feature former intelligence official Richard Grenell, former Nevada Attorney General Adam Laxalt, chairman of the American Conservative Union Matt Schlapp and Nevada GOP Chair Michael McDonald, the campaign said.