The climatic environment after the Coronavirus Pandemic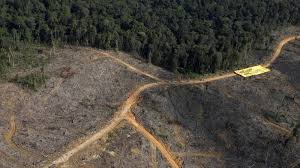 As Governments and firms around the world consider ways to reduce the the effects of the coronavirus pandemic on the economy, the commitment to protect the environment must not be overlooked.
This commitment must be at the heart of the corporate strategies and economic policies being designed to stimulate economic growth during and beyond the pandemic.
This is as important for developing countries such as Nigeria that have less resources to grapple with the effects of global warming, such as rising sea levels as it is for richer countries in the West.
People everywhere in the world produce and use a diverse range of building solutions to build the factories where they work, commercial buildings they lease, homes they live in. Thus, critical infrastructure required to support economic activities, increase incomes and reduce poverty.
Evidently population growth and economic development drive the pace of urbanization. It is therefore no gain saying that the construction industry supplies the building blocks for economic growth and improving the quality of lives globally.
However, if we are to sustainably advance economic growth and reduce poverty, we as the gatekeepers of the industry, must also keep working on innovations to reduce the 5% of global anthropogenic carbon dioxide emissions that our industry is responsible for.
The world is suddenly breathing fresh air due to the pandemic-induced decline in economic activities such as transportation and manufacturing.
According to a BBC article on the environmental impact of the new coronavirus, pollution levels in New York halved in March 2020 and satellite images show nitrogen dioxide emissions fading away in industrial areas in Italy, Spain and the United Kingdom.
In China, the Ministry of Ecology and the Environment reports that the number of days in which people enjoy "good quality air" has risen by 11.4%. The question is how can we transform this unintentional progress on protecting our environment into a more purposeful commitment?
As the global leader in building materials and solutions, our commitment towards taking steps to protect the environment should be highly intentional.
Everywhere in the over 80 countries where LafargeHolcim operates, we are at the forefront of initiatives to reduce the environmental impact of manufacturing. Which is a sector the production of cement and building materials belongs. As well as construction, another massive sector in which LafargeHolcim is also a leader.
Globally, our care for the environment is guided by four strategic pillars of sustainability: Climate & Energy, Circular Economy, Environment and Communities. Our Climate and Energy commitment has seen us reduce CO2 intensity by 27% since 1990. Equivalent to avoiding 40 million tons of CO2 in 2019 compared to 1990 or taking 8.6 million cars off the road.
Our Circular Economy pillar embodies our commitment to recycling waste materials; in 2019 we reused 45 million tons of waste and are targeting to reuse 80 million tons by 2030. When we use waste to generate energy, this means less drilling for fossil fuels and less materials going into highly polluting landfills and incinerators.
Our Environment Pillar commits us to important actions such as reducing our water usage and air pollution; we avoid the wastage of fresh water and depleting or polluting water in the communities where we operate.
LafargeHolcim plants also reduce dust emissions by 5% every year. Through the Environment Pillar, we demonstrate to our host communities that we are not only committed to protecting the environment around them but also to their welfare. Since 2015, over 28 million people have benefited from our community investments in healthcare, education and other areas.
Having worked and led LafargeHolcim businesses in Europe and the Middle East and Africa regions, it is evident that our commitment to the environment is non-negotiable in any of our businesses around the world.
By 2019, 86% of our plants had acquired an environmental management system equivalent to ISO 14001. More and more plants are working towards their own EMS to achieve 100% stringent compliance with our environmental standards all over the world.
Lafarge Africa, has supported Nigeria's economic growth for over 60 years, and has been a leader in promoting responsible manufacturing which places a premium on the protection of the environment.
We have reduced our dust emissions at kiln stack by 28% and reduced net CO2 per tonne of cementitious material by 1.3% to 535 kg/t (compared to 2018) in Nigeria. We are 100% compliant with the environment Protection Authority Guidelines, and continue to implement our quarry rehabilitation plan.
Lafarge has developed rehabilitation and reclamation plans for all pit and quarry sites in Nigeria. While it implements biodiversity management plans for all extraction sites to protect the habitats and facilitate conservation for the future.
Lafarge Africa has significantly reduced freshwater withdrawals and supports sustainability of water resources especially by making provisions in water scarce areas. All our dry process plants are built with water recirculation systems to encourage reuse and recycling of processed water.
A total of 26,000 tree seedlings were planted in our Sagamu, Ewekoro, Mfamosing, Maiganga and Ashaka quarries this year and so far 397,500 indigenous trees have been planted across our quarry sites in the country from 2011 till date.
For us at Lafarge Africa, sustainable development means enhancing the economy's capacity to meet more of the needs of people today without jeopardising the needs and welfare of people tomorrow.
While we think of enhancing the resilience of our communities and the economy amidst the economic turbulence unleashed by the new coronavirus pandemic, our actions as individuals and corporate organisations must be geared towards a better future for humanity and the environment – the earth, humans and animals alike.
And as we invite other manufacturing companies to join us in this commitment, we must emphasize the importance of protecting and handing over a more habitable planet to future generations.