Sawyerr urges FG to see shortfalls in agric supply chain as opportunities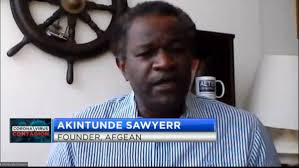 Mr Akintunde Sawyerr, an Agriculture expert, has called on the Federal Government to seize the opportunities that the COVID-19 pandemic has provided by the global supply chain to improve foodstuff supply.
Sawyerr, the Executive Secretary of Agricultural Fresh Produce Growers and Exporters Association of Nigeria (AFGEAN), gave the advice in an interview with Naturenews on Wednesday in Lagos.
He advised that in the economic recovery plans of government, the food supply chain must be improved upon and support should be given to companies and agricultural businesses.
Sawyerr said, "the breakdown in global supply chain and bankruptcy of many global companies have opened up opportunities for Nigerian companies in the agro space to fill gaps where others had dropped out.
According to him, there has also been a slow and an unpredictable movement of traffic and storage facilities.
"These have posed drawbacks for Nigerian agricultural products to gain predictable access to local and international markets and to the ports for exports.
"Vehicular traffic movements across the value chain have been slow and unpredictable. The additional challenge of storage, port process bottlenecks and hot weather affecting the shelf -life of Nigerian agricultural produce have negative effects on quality.
"The dearth of value addition and produce processing are also leading to food waste and low prices,'' he said.
Sawyerr, however, called on the Federal and State Governments to upgrade intelligence, based on consumption data, communication technology, creation of opportunities for the private sector to develop more supermarkets, improve food storage and transport facilities.