Maximise opportunities in aquaculture, expert tells Nigerians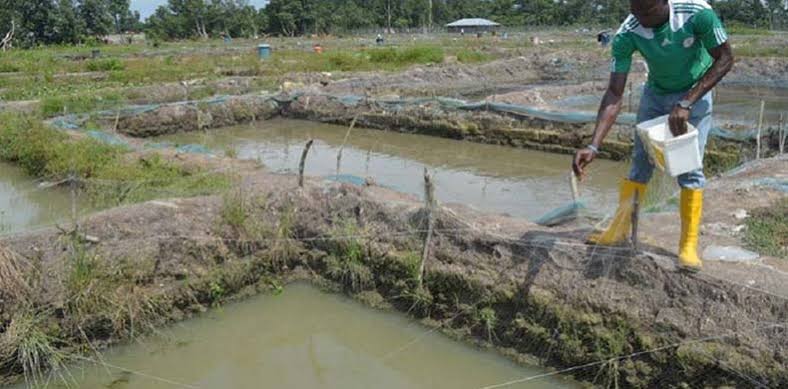 Dr Sadiq Joseph, an aquaculturist has urged Nigerians to maximise opportunities provided by aquaculture to expand their farming activities.
Joseph, Managing Director, Vision Global Farms, said that aquaculture presents a profitable opportunities for smallholder farmers.
He expressed concern that only few farmers take advantage of the opportunity because of lack of technical knowledge fish farming requires and few hatcheries that supply fish to small-scale farmers.
"Our rivers are chocked up with a lot of opportunities but we are missing them.
"By our backyards there are lots of opportunities but we are missing them.
"That little space you have beside your house is a big opportunity for you to explore and maximise whatever you think you are into most especially the organic farming, fish farming and the poultry farming.
"We don't need to wait for the government to come and give you the fish you will do yourself.
"Fish so far is one of the best meats we have in the world; it is cholesterol free.
"We have the opportunity to turn that one room into an opportunity but we don't know how it can be useful to us.
"Last year the US government made over $500 billion from fish farming.
"We here in this part of the world most especially Nigeria we have the best weather, the Thailand that brought this thing to us we are better off in weather than them.
"In Thailand, in seven months their fishes are still below 1kg but in seven months we hit up to 2.5 kg here so we are not seizing the opportunity.
"This is an opportunity because we have better weather better opportunity and better environment to grow these things and actually to maximise profit than them.
"So we are lacking because we don't take good advantage of opportunities,'' Joseph said.
He urged government at all levels to invest more in agriculture with a view to engaging more youth in agriculture.
"Government should invest more in agriculture most especially the livestock and organic farming, the government should encourage people,'' he added.
While expressing concern over the difficulties farmers go through in accessing loans, Joseph further urged the Federal Government to design more functional ways of ensuring that they have easy access to loans.
"There should be a structure of disbursing loans to reach the poor masses.
"At least 17 clients are on my desk trying to access the Anchor Borrowers Programme but it has not been actualised.
"Some people hijacked the opportunity and they use it for other things.
"Let us make it simple, let us make is accessible to the real users, to the real people that need it,'' Joseph said.