Massive destruction too heavy for Lagos – South-West senators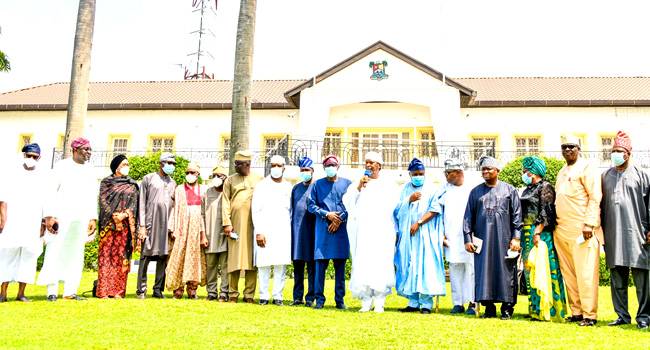 The South-West caucus of the Senate on Tuesday lamented the destruction of public and private properties in Lagos after the #EndSARS protest turned violent.
The lawmakers described the attacks as 'orchestrated tragedy' and called for a thorough investigation.
The senators, who noted that the burden of rebuilding would be too much for Lagos alone, promised to get the support of the National Assembly and the Federal Government to assist the state in recovering.
They spoke during a visit to Governor Babajide Sanwo-Olu to commiserate with him on the loss of lives and properties in the state.
The delegation was led by Senator Ajayi Boroffice, who represents Ondo North senatorial district.
Boroffice expressed worry that many youths working in the businesses that were destroyed would be rendered jobless, adding that it would take time for owners of affected businesses to recover, given the extent of losses.
"Adequate decisions had been taken by the government to attend to the demands of the protesters. Of course, some of the demands require constitutional amendment and cannot be done immediately. The Senate showed its readiness to look into the issues with the necessary amendments. So, it was unnecessary for the protest to be prolonged to the point of being hijacked by those with violent agenda," he added.
Sanwo-Olu, in his response, expressed concern that some Lagos communities had become vulnerable to crimes following arsonists' attacks on police stations and facilities housing security operatives.
Meanwhile, the state Commissioner for Information and Strategy, Mr Gbenga Omotoso, has reiterated the commitment of the state government to the well-being and security of Lagosians.
Speaking on Lagos Television about the recent crisis in the state, Omotoso said the state governor identified with the #EndSARS protests, addressed the youth and even took their demands to the President to affirm his support for their just cause.
He said the judicial panel of inquiry instituted by Sanwo-Olu was a focused step towards serving justice and compensating individuals and families who suffered rights abuses from SARS operatives.