Lawmaker distributes 20,000 cocoa seedlings to Osun farmers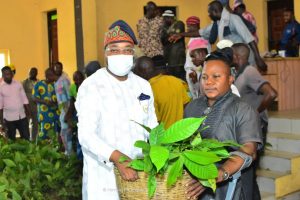 Mr Tunde Olatunji, the Chief Whip of Osun House of Assembly, on Thursday distributed 20,000 free hybrid cocoa seedlings to farmers in his Ife-North state constituency.
Olatunji, a member of All Progressives Congress (APC), while distributing the seedlings in Ipetumodu, said the programme, tagged "Ife-North Cocoa Revolution", was aimed at empowering his constituents economically.
The lawmaker, who noted that cocoa had been the major source of income for people of Ife-North for decades, said the seedlings distribution would help in reviving cocoa plantation in the area.
He said: "In Ife-North, we have both competitive and comparative advantage in agriculture.
"Specifically, cocoa has been the major income earner for us and as a fact, 80 to 90 per cent homes in Ife-North were built with cocoa proceeds.
"There is no house in Ife-North that do not have history of cocoa farming. Cocoa has produced many graduates more than any other vocation in the constituency.
"So, what I am doing today is not to introduce cocoa farming to the people but rather to revive cocoa plantation in the constituent toward eradicating poverty and unemployment".
Olatunji said his focus in the next four years was to inject 100,00 cocoa trees to the existing ones in replacing the old ones.
He said that such initiative was a sustainable economic empowerment that would assist in reviving cocoa foundational farming for the people.
In his remarks, Mr Adedayo Adewole, the state's Commissioner for Agriculture, said that the lawmaker's effort would go along way to assist government in its cocoa farming revitalisation programme.
Adewole, who commended the lawmaker for his initiative, said government was working towards making the state the hub of cocoa plantation in South-West.
Mr Taiwo Okeowo, Chairman of All Farmers Association of Nigeria (AFAN), in Ife-North, who spoke on behalf of other farmers commended the lawmaker for the initiative.
Okeowo said the seedlings would go a long way to boost cocoa farming in the constituency.