Lagos Blue Line Rail Revolutionizes Transportation Infrastructure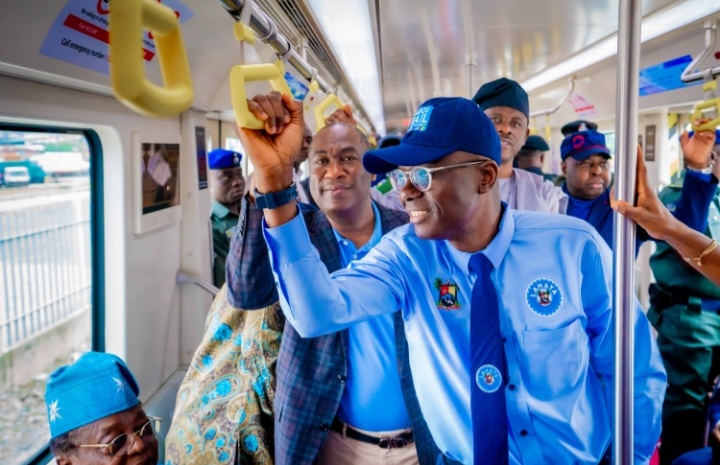 By Salifu Faridat
The recent inauguration of Lagos' premier metro line, affectionately known as the "Blue Line," stands as a monumental achievement in Nigeria's pursuit of sustainable urban mobility.
This transformative rail project's maiden stretch links the vibrant Lagos Marina to the bustling Mile 2 district, traversing a 27-kilometer distance in a mere 15 minutes – a staggering improvement over the hours it can take via bus.
Catering to an estimated daily ridership of 175,000 passengers, the Lagos metro emerges as a swift and efficient transportation solution for the city's energetic population. To embark on this thrilling journey, commuters need only pay a reasonable fare of N700 naira.
However due to Governor Babajide Sanwo-Olu's palliatives on transportation services in Lagos, the fare was sliced by 50% untill the palliatives measures are lifted. This means that Lagos Blue line rail ticket currently goes for N370 Nigerian Naira.
The genesis of this remarkable infrastructure undertaking dates back to 2003 when President Bola Tinubu, who was then the Governor of Lagos, initiated the project. Spearheading the construction was the China Civil Engineering Construction Company (CCECC), a subsidiary of the China Railway Construction Group.
With the imminent arrival of the second line, electrified for traction, the metro will connect Mile 2 to Okokomaiko in the western part of Lagos, boasting a projected capacity to serve up to 500,000 individuals.
At its core, the Lagos metro aims to combat the persistent traffic congestion that plagues Nigeria's economic capital. With a population of 21 million, six times greater than the federal capital, Abuja, Lagos has been in dire need of such a transformation.
This ambitious development promises not only enhanced mobility but also a more seamless commuting experience, marking a thrilling chapter in the city's journey toward sustainable urban transportation.