Katangowa market demolition: Traders clamour for temporary space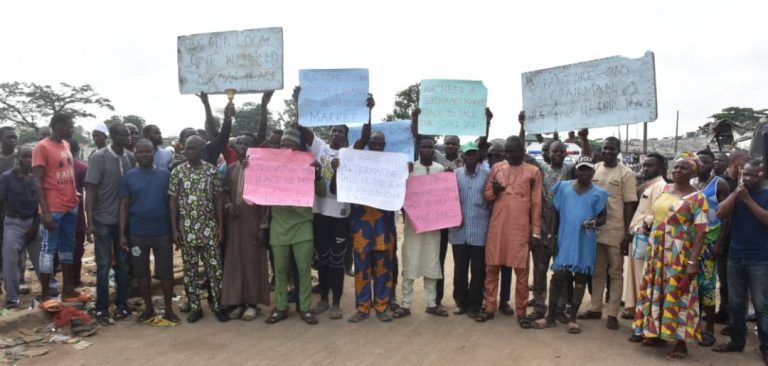 Stranded traders at the popular Katangowa market in Abule-Egba area of Lagos have called on the state government to allocate for them a temporary space to continue their businesses.
The placard-carrying traders expressed their grievances during a peaceful march on Monday, saying"we need a temporary market space.
"We have no alternative, help us, the developer is threatening us with touts and soldiers," the traders said.
Katangowa was a thriving second-hand wares market, mechanic village and other petty businesses which was demolished by the state government for relocation of Computer Village from Ikeja.
The Lagos State Government awarded the project to Bridge Ways Investment, and demolition began on Jan. 21, displacing many traders and residents in the area.
Read also: Environmentalists task AfDB on financing climate friendly policies
Some members of Super International Mechanic and Spare Parts Dealers Union said that they were not given enough notice to vacate before demolition began in January.
Former Chairman of the union, Mr Olabode Afuye, said that the developer had constructed a temporary space and allocated it to some traders in the market.
Afuye said it was unfair to favour a group, leaving others displaced with no provision for an alternative.
He said the developer had since been harassing and tormenting them with armed uniform men to vacate the area.
"We are not trying to foment trouble because we have already lost a lot due to the demolition.
"When they wanted to demolish the market, the developer gave us only seven days notice without providing a temporary space.
"Also, when the demolition began, we had a stakeholders meeting and they said we would be compensated but we haven't received anything till now.
"Since we had nowhere to stay, we constructed a small covering with planks just to manage; however they have been using soldiers to torment and harass us, telling us to vacate immediately.
"Now, they have been constructing temporary space and allocating to some fairly used sellers, leaving us with no place to stay.
"All we ask is for them to give us a temporary space too, so we can continue our business till we find a permanent site," he said.
Meanwhile, the Local Council Development Area Chairman, Agbado Oke-Odo, Mr David Famuyiwa, assured the aggrieved traders that he would have a meeting with the developer to address their request.
He said he would give them feedback by Nov. 16.
"I will speak with the developer, Dr Jimmy Onyemenam, to stop activities soon so that we can resolve this issue.
"I will also check the building plan, if there is provision for a mechanic village in the plan, they must allocate a temporary space. If not, I will still appeal for temporary space for a short period till you find a permanent site," he said.