In California's smoke-filled horizon, it's become hard to breathe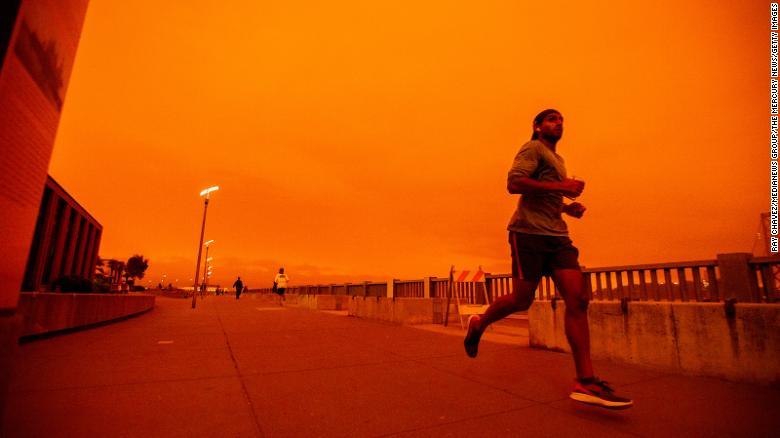 For West Coast residents, the anxiety that comes with fire season is all too familiar.It's common to have an emergency bag — filled with items like a first-aid kit, a flashlight, a portable cellphone battery pack and a map marked with at least two evacuation routes — at the ready. And along with the emergency bag, a plan at the ready for places to stay if you need to evacuate.But this year, with air so thick with smoke it's hard to breathe, the fires, which span beyond California into Oregon and Washington, seem worse. And according to experts, that's because they are.The unprecedented wildfires that continue to cause havoc on the West Coast have claimed the lives of at least eight people. Quite literally, the West Coast is burning — from the orange skies in San Francisco to the ash rain in Southern California, the Golden State looks like it has been given the Hollywood dystopia treatment.
Massive wildfires spread destruction across the West and kill at least 8 peopleBut it's not a dystopia — it's a reality: The climate crisis has arrived — and on the West Coast, people are getting a front-row view of just how bad it is via the air they breathe. Los Angeles experienced its worst air quality in more than 25 years amid a historic heat wave last weekend, data from the South Coast Air Quality Management District shows. The ozone pollution reading from Downtown Los Angeles was so high Sunday, air quality officials said, it was not initially reported. Instead, officials conducted an additional manual review to make sure it was correct. "Climate change has not just made the extreme heat waves that coincided with the fires worse," Daniel Swain, a climate scientist at UCLA and the National Center for Atmospheric Research, told CNN earlier this week. "The bigger effect is the more subtle, long-term warming. That couple of degrees of (average) warming over decades … you don't notice it as much, but it's still there lurking in the background, sucking extra moisture out of the vegetation and the soil."
Breathing: A 'luxury' during fire season
Satellite images from National Oceanic and Atmospheric Administration (NOAA) reveal that the wildfire smoke continued to blanket most of the West Coast on Thursday morning.Because of this, the air quality remains moderate to even hazardous across this region, including in all major cities. But West Coast residents don't need NOAA to tell them: They just need to step outside and breathe — or attempt to.As a recent Time magazine journalist noted, during fire season in California "breathing feels like a luxury for more and more months of the year."As of Thursday, the South Coast Air Quality Management District said a smoke advisory remained in effect for most of Los Angeles County and parts of Orange, Riverside and San Bernardino counties.
Fortunately, many people in the fire areas are already equipped with masks (unfortunately, that's due to their concerns over catching or spreading Covid).Dr. John Balmes, a pulmonologist at University of California San Francisco, told CNN that an N95 or an N100 respirator, certified by NIOSH, is the best respiratory protection from both Covid-19 and PM2.5, the tiny lung-damaging pollution particles that are found in the worst concentrations of wildfire smoke.Cloth masks, he said, prevent transmission of SARS-CoV-2 — "but offer little protection from wildfire smoke."Balmes recommends that people stay indoors with the windows closed and put central ventilation on recirculate mode, or create a clean air room with a portable HEPA air filter device.