Group Aim For 100,000 Hectares of Land in Rubber Plantation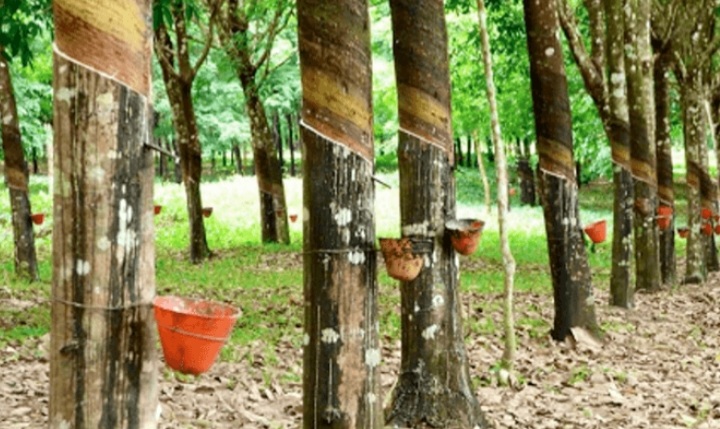 The National Rubber Producers, Processors and Marketers Association of Nigeria (NARPMAN) has sought a license from the Cross River State government to cultivate 100,000 hectares of rubber plantation.
The State Chairman, NARPMAN Cross River Chapter, Mr Umo Inameti, made this appealed recently when he led his members on a courtesy visit to the State Commissioner for Crops and Irrigation Development, Mr Johnson Ebokpo.
Inameti said that years ago, the state depended heavily on rubber, but presently, it does not have up to 10,000 hectares of prime producing rubber trees.
According to him, as the plantations disappeared, all the processing factories in the state went with them except for Royal Farms, which started in 2018.
"Our prayer, therefore, to the state government is an approved policy document to develop 100,000 hectares of land for rubber cultivation, and the crop should be added in the state's 2024 budget.
"If we are able to do 50,000 hectares in the next few years, we will drastically reduce rural-urban migration and we will be making about N200 billion direct income to our primary industries annually," he said.
Similarly, the National Vice President, NARPMAN, Mr Usen Umo, South-South, said that developing rubber plantations in the state is an urgent need because of the important role rubber plays in everyday human life.
Umo, who doubles as the General Manager, Royal Farms in Cross River, said "that years ago; Pamol, CREL and other rubber processing plants had huge plantations with facilities that made life easy for the community dwellers but today, they are all dead."
He reminded the commissioner of the promise of the state government to establish 50,000 hectares each for rubber, cocoa, and oil palm trees, adding that this would help the state be on its way to economic growth.
In his response, Ebokpo, while harping on the importance of the cultivation and processing of rubber, said that the importance and economic benefits of the crop could not be overemphasized.
He disclosed that Gov. Bassey Otu had made a pronouncement on some mandated crops such as oil palm, cocoa, rice, and cassava, including rubber, to be effectively developed in the state.
He said that with the pronouncement, next is to put up a full proof policy framework that would drive the process.
"Before we come up with a policy document, we will meet all the players in the rubber value chain so that we will have a policy document that gives clarity to the entire value chain.
"It is my desire that processing takes place here. So, one of the things I intend to do is to visit Royal Farms and officially inaugurate it.
"This administration is very serious with agriculture because we don't have a choice; it is the evacuation of some of our produce that will make our seaport work and boost our economy," he said.
Meanwhile, Mr Fidelis Obi, Managing Director, Pamol Nigeria Limited, a rubber plantation and processing plant said there is no other way to boost Cross River's economy other than through Agriculture, just like other nations have done.
He added that the rubber estates established by colonialists had all been destroyed, adding that the state needs to start empowering local farmers for the processing plants to return.