Flood displaces 3200 families across 2 LGAs in Gombe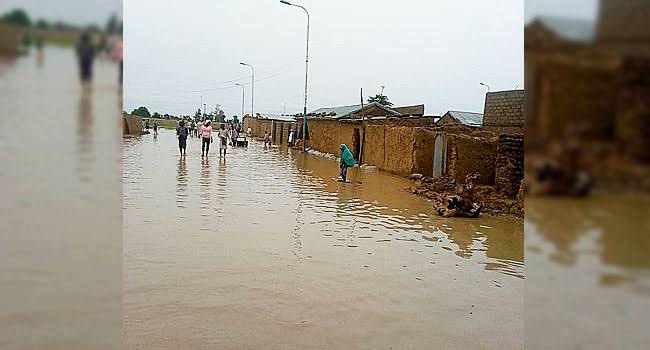 Olamide Francis, Lagos
Gombe State Governor, Inuwa Yahaya, on Friday lamented about the floods ravaging various parts of Nigeria, claiming that it has affected two of the 11 local governments in the state, leaving 3,200 families sacked from their homes.
The governor made this announcement in an interview with State House correspondents after a meeting he had with the President, Major General Muhammadu Buhari (retd.), at the Presidential Villa, Abuja.
He said the flood that affected the two local governments was caused by the flood around the river banks of Gongola.
The governor said the situation was further worsened by the fact that the state is situated between valleys and because of poor practices and lack of proper environmental management. He said the factors contributed to gully erosion in the state which necessitated seeking Federal Government's support.
"Of recent, in two local governments that are affected, we have about 3,200 families that have been dislocated. But we have been trying to provide alternatives.
"At the moment, we are designing layouts from which we will relocate all resettlements that are on flood plains and on gullies which are normally susceptible to floods," the governor said.
Yahaya added that the state has been busy with catering to Internally Displaced Persons and people displaced from neighbouring states as a result of insurgency.
The governor also seized the opportunity to inform the authorities to mount pressure on the Nigerian National Petroleum Corporation (NNPC) and the Department of Petroleum Resources (DPR) to hasten exploitation of oil and gas deposit in the state.
"With the discovery of oil and gas in Gombe and Bauchi States, and specifically, in the whole of Gongola Basin, we seek to get the support of the Federal Government so that pressure will be mounted on the Nigerian National Petroleum Corporation and the Department of Petroleum Resources.
"This is for the organisations to see to the fact that the exploitation oil and gas deposit that is available in Gombe and in fact the wider Gongola Basin is encouraged so that economic activities will be triggered, our people will have more jobs and Gombe will join the league of oil-producing states," he said.