FG trains unemployed in livestock, vegetable production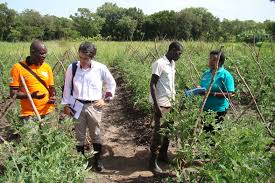 The Federal Government has begun training of 100 unemployed people in Oyo State in livestock and vegetable production in an effort to boost food security.
The training is part of the government's renewed efforts at revamping the country's agriculture sector under the National Directorate of Employment (NDE) Sustainable Agricultural Development Training Scheme (SADTS).
The NDE Coordinator in Oyo State, Mrs Olayinka Olayemi, said at the opening of the training on Tuesday at Kosobo that the initiative was aimed at encouraging Nigerians to take up agriculture as a means of livelihood.
Olayemi, who was represented by Mrs Oluwatoyin Aiyelagbe, NDE's Head of Small Scale Enterprise Department, added that the initiative would create jobs and wealth.
She said that the scheme was successfully implemented in the state with collaborations from the federal, state and local governments, and other stakeholders.
Dr Michael Mbata, the Director, Rural Employment Promotion, NDE Headquarters, Abuja, said SADTS was designed to ensure that agricultural production and distribution systems would provide more revenues, a better environment and improved quality of life for farmers.
Mbata, who was represented by an official of NDE, Mrs Beatrice Oruoyehu, urged the participants to fully engage the resource persons to get equipped with knowledge in the value chain.
Mr Kabir Adedoja, the, Head of Rural Employment Promotion Department, NDE Oyo State, said that the trainees were drawn from the three senatorial districts of the state.
Adedoja said the participants of the three-month training would get stipends and certificates at the end.
He explained that the training would consist of agric business tutorial/practical demonstration in vegetable and livestock production.
Alhaji Mumini Owolabi, the Secretary of Oyo East Local Government Council, thanked the NDE for bringing the scheme to the council area, and promised that the council would give the trainees needed support.