FG to revitalize rice farms in rice producing regions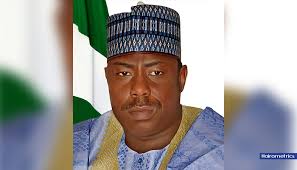 The Minister stated that rice production is expected to increase as the government continues to revitalize rice farmers.
The Minister stated that rice production is expected to increase as the government continues to revitalize rice farmers.
The Federal Government has stated that Rice Farms in Anambra State and other regions will be revitalized to boost rice production, create jobs and also improve the living standard of the people in the State and the region.
This was disclosed by the Minister of State, Agriculture and Rural Development, Hon. Mustapha Baba Shehuri, during the assessment of Federal Government Rice Farms/Mills in Omor and Umerum in Anambra State.
Given the importance of rice as a staple in Nigeria, the Minister stated that the Federal Government is taking steps to achieve self-sufficiency in rice production, and this is evident in the policies of the government in achieving food and nutrition security, import substitution and promotion of inclusive economic growth across all sectors of the economy.
Government Policy Interventions in Agriculture and Rural Development has helped to develop the rice sector, and these interventions include the provision of farm inputs such as agrochemicals, organic fertilizers, knapsack sprayers, planting & harvesting equipment such as reapers, mini combine harvesters, threshers at a subsidized rate in order to increase productivity.
The Minister added that these policies have not only increased the quantity of rice produced annually but interventions through the provision of modern rice milling machines to small/medium scale processors, has also helped to improve the quality of Nigeria milled rice to international standard.
However, Nigeria's rice consumption still holds higher than production, but government interventions through myriads of policies have increased rice production from 4.8 million metric tons of milled rice in 2015 to over 6 million metric tons by 2019 with a huge reduction in the nation's deficit.  Hon. Mustapha Baba Shehuri explained that production is expected to increase as the government continues to revitalize rice farmers
Shehuri said that "the Ministry has established 23 Paddy Aggregation Centers nationwide to aggregate and store paddy. The centres were given to members of the Paddy Dealers Association of Nigeria (PRIDAN) under the public-private partnership arrangement".
In like manners, there will be the dissemination of modern rice production and processing technologies, through capacity building of farmers and processors directly and also in conjunction with the international donor agencies such as Japan International Cooperation Agency (JICA), Food and Agriculture Organization (FAO), German International Cooperation (GIZ), International Fund for Agricultural Development (IFAD), Competitive Africa Rice Initiative (CARI), AfricaRice.
He reiterated that the Ministry is currently responding to the challenges of food availability posed by the COVID-19 pandemic by supporting smallholder farmers nationwide with various inputs including certified seeds of improved varieties of food crops such as rice, maize, sorghum, wheat, orange-flesh sweet potato, groundnut cowpea, soybean, yam, as well as cash crops like cashew, cocoa, sesame, oil palm, gum Arabic. Others include herbicides, pesticides and agricultural machinery such as rice reapers, transplanters, power tillers motorized sprayers and processing equipment.
These interventions are expected to alleviate the effect of the pandemic on farmers and ensure that they keep producing food for the country.