FG Applauds Guinness Nigeria's Contributions to Environmental Sustainability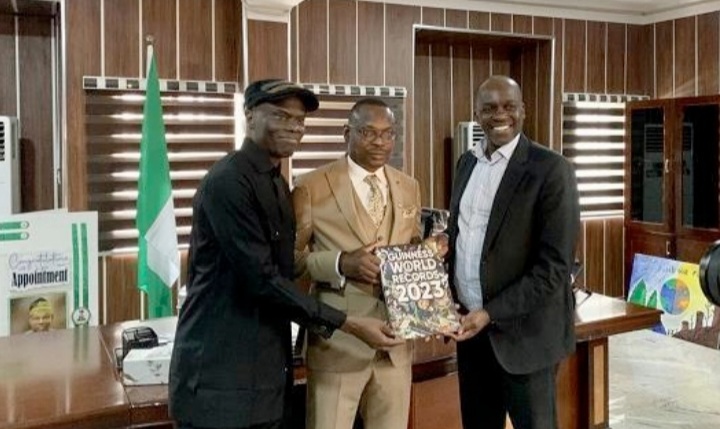 By Grace Samuel
On Thursday, October 26, 2023, the Federal Government of Nigeria extended its commendation to Guinness Nigeria for its remarkable efforts in promoting responsible drinking, environmental sustainability, and corporate social responsibility for the citizens of Nigeria.
This commendation came during a significant meeting held in Abuja, where a delegation from Guinness Nigeria, led by its Managing Director, Mr. John Musunga, met with the Minister of State for Environment, Dr. Iziaq Salako.
The purpose of this visit was to enhance partnership and provide an update on the organization's interventions in the country while reinforcing their relationship with the government.
Dr. Salako expressed Nigeria's deep appreciation for Guinness Nigeria's multifaceted contributions to the nation, emphasizing its positive impact on national growth and development.
He stated, "I must commend you for your very high sense of corporate social responsibility. Thank you for believing in Nigeria and your persistence to ensure that you continue as a contributor to the economic growth of Nigeria."
Acknowledging the economic challenges that Nigeria faces, Dr. Salako praised Guinness Nigeria's decision to cease the production and sale of alcoholic drinks in sachets. He lauded this move for its potential to mitigate underage drinking and reduce environmental pollution.
He remarked, "One of the things that I advocated when we were reviewing the public health law in Ogun is for the state to ban the circulation of alcohol in sachets because it makes it easier for people to access the underage and everyone else."
Furthermore, the Minister assured that he would lead efforts to halt the production and sale of sachet alcohol products through legislative measures.
In response, Mr. Musunga, the Managing Director of Guinness Nigeria, emphasized that the purpose of their visit was to strengthen relationships with government partners and provide updates on their various initiatives in the country.
He noted that Guinness Nigeria was actively working to reduce its reliance on imports and was instead collaborating with local companies to promote backward integration, stimulate economic development, and support local businesses.
Mr. Musunga outlined the challenges posed by limited access to foreign exchange but highlighted the organization's commitment to supporting local farmers in raw material production for ethanol.
He revealed that 80 percent of their products were now sourced locally, a decision driven by the economic benefits of supporting local communities.
Additionally, Mr. Rotimi Odusola, the Corporate Relations Director of Guinness Nigeria, mentioned the organization's efforts to promote responsible drinking and champion inclusion and diversity.
These efforts included projects such as "Wrong Side of the Road" to address alcohol abuse, the "Smashed Project" for alcohol education among young people, the "Water of Life Project" aimed at providing solar-powered water facilities for water-stressed communities, and the "Recycling Alliance," among others.
Guinness Nigeria's commitment to environmental sustainability, responsible drinking, and contributing to the economic growth of Nigeria aligns with the government's goals and aspirations, making this collaboration an essential step toward achieving a more prosperous and sustainable future.