Embrace irrigation to evade floods — Experts advise farmers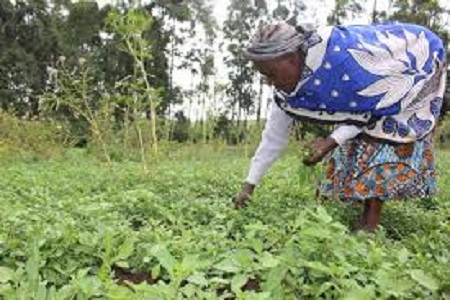 As a way of evading crop losses due to the devastating effect of climate change on weather conditions, specialists in agricultural science have advised local farmers reduce depend on seasonal rains in cultivating their crops.
What this means is famers should reduce dependence on rain-fed agriculture and embrace dry season farming.
A Lagos-based greenhouse farmer, Mr Chuba Chukwuka is of the opinion that to boost productivity, local crop farmers must depend less on rainfall for planting of crops.
"There are so many advantages for local farmers, who do not depend on a rain-fed agricultural system in present times.
"In the past, farmers could determine the rainy season from the dry season and they know the best times to plant their crops.
"However, in present times, the rainy season is not easily determined due to climate change effects.
"This year, lots of farmers planted when the rain started, but suddenly the rain ceased, which caused many losses because the plants could not survive," Chukwuka said.
According to him, "The flip side of a rain-dependent agriculture system is that the prices of produce rise.
"For example, the prices of ugwu and okra crashed at the start of the rains but now, their prices have gone up again because most farmers that depended on rains could no longer produce and lost their crops."
Mr Lattef Abubakar, owner of Lateef Farms in Ilorin, Kwara State sai dry season farming is the best way to tackle perennial flooding.
He said apart from evading impact of the devastating floods, irrigation enables farmers to cultivate and produce crops all year round irrespective of the weather conditions.
"I understand the challenge of our irrigation facilities. They are not readily available to many farmers, especially the small scale ones.
"I will share my experience about how I started. I dug a well. I started with vegetables, tomato and pepper. The produce became hot cake. I got some money and called the local borehole drillers. They dug my borehole with just N120,000 and the rest is now history."
According to him, with good irrigation system, farmers will never be taken unawares but will always be sure that the crops will do well whether there is rain or not.
Another farmer, Habibu Abdullahi noted that full dependence on rain-fed agriculture has caused many farmers huge losses, resulting in increased prices of foodstuffs.
The trouble with dry season farming is shortage of facilities. A cross sections of the experts as well as the farmers are worried about the deteriorating condition of the nation's irrigation facilities.
According to them, all year round farming is only possible with good irrigation facilities in place.