EDITORIAL: Tackling Deforestation In Nigeria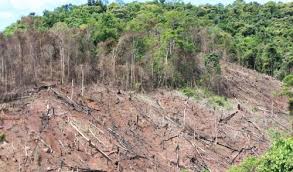 Concerns over the high level of deforestation in Nigeria were recently expressed by the Food and Agricultural Organisation (FAO) of the United Nations.
The FAO representative in Nigeria, Fred Kafeero, made his worries public last week at the opening of the inception workshop of the Global Environment Facilities' (GEF) Food System, Land Use and Restoration (FOLUR) impact programme, in Abuja.

He said deforestation is the major cause of environmental degradation, declining soil fertility, biodiversity loss and reduction of other ecosystem services.

The annual rate of deforestation in Nigeria is presently put at 3.7 per cent.
The workshop, which had the theme 'Promoting Integrated Landscape Management and Sustainable Food Systems in the Niger Delta Region in Nigeria', focussed specifically on Ondo and Cross River states.

Kafeero said the workshop is part of government's commitment to promoting sustainable cocoa and oil palm production systems and landscape restoration to deliver multiple ecosystem services.

The FAO, which was founded in 1945, is a specialised agency of the United Nations that leads international efforts to defeat hunger and improve nutrition as well as food security.

It helps governments and development agencies coordinate their activities to improve and develop agriculture, forestry, fisheries, land and water resources.

In his speech at the opening ceremony, the Minister of Environment, Dr Mohammad Mahmood Abubakar, who was represented by Dr Bolatito Obisesan, a director in the ministry, said the workshop is in line with his ministry's vision of promoting sustainable land use and crop production.
Mrs Iyabo Mustapha, who represented the Federal Ministry of Agriculture and Natural Resources at the workshop, blamed the increase in greenhouse gas emission in Nigeria on the crude instruments that small-holder farmers use in their farming practices.

Deforestation is a process where vegetation is cut down without any simultaneous replanting for economic or social reasons.
Deforestation has negative implications on the environment in terms of soil erosion, loss of biodiversity ecosystems, wildlife and increased desertification.

According to data recorded between 2000 and 2005, Nigeria had the largest deforestation rates in the world, having lost 55.7 per cent of its primary forests which refer to forests with no visible signs of past or present human activities.
Logging, subsistence agriculture, and the collection of fuelwood are cited as leading causes of deforestation.

A lot of damage has been done to Nigeria's land through the processes of deforestation; notably contributing to the overwhelming trend of desertification, which refers to the encroachment of the desert on land that was once fertile. Much of the deforestation in Nigeria comes from the demand for fuelwood.

A large percentage of the Nigerian population rely on wood as the main energy source for cooking; a practice most prevalent in rural areas.
Yet gas, which is a sustainable alternative to wood, continues to enjoy indefinite flaring.
Wood felling or fetching continues to survive because of it being a source of income to many rural dwellers.

As part of the impact of deforestation through mass habitat destruction on Nigeria's biodiversity, the number of the rare Cross River gorilla has, for instance, significantly decreased.
Deforestation puts the environment, the economy and of the citizens of the country all at risk.

A multi-dimensional approach that covers energy alternatives, improved technology, and efficient forestry management is required to tackle deforestation in Nigeria.
Protecting the forest entails the enforcement of logging regulations that prohibit illegal felling of trees in addition to implementing a compulsory "plant a tree programme" for all loggers.

The National Forest Conservation Council of Nigeria (NAFCON), as well as state ministries of environment, must take the lead in this regard.
The forestry department at state and local government levels should be strengthened to efficiently discharge its mandate.
Aside from equipping forest guards with necessary tools to function effectively, there is need to explore wind and solar reserves as alternative energy sources.
Promoting the use of stoves, instead of fuelwood, is indeed strategic to tackling deforestation in Nigeria.