Earth Treasures: Almandine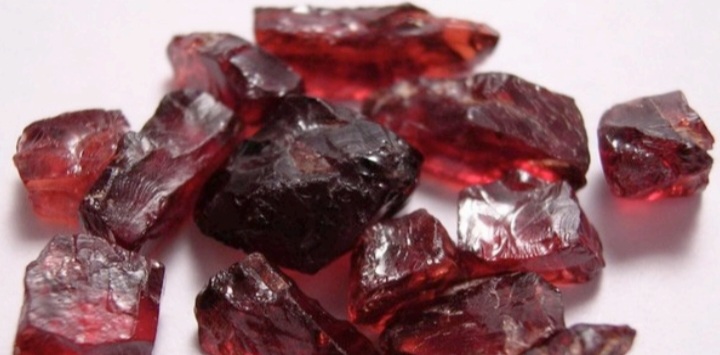 By Chisom Ibemere
Almandine is also known as Almandinite which is a type of garnet that has been in existence since ancient times. The word "almandine" is derived from the Greek word for "alabaster," because of their use in carving decorative objects. They were used by ancient Egyptians and Romans for jewellery who believed in its healing Properties.
Almandine is seen globally but some of the most prominent deposits are in India, Sri Lanka, Brazil, Madagascar, and the United States. It occurs in metamorphic rocks like schist, gneiss, and mica, as well as in alluvial deposits near rivers.
Almandine garnet is basically used as a gemstone in the production of jewellery, but it also has other industrial applications. It can be used as abrasive for sandpaper, water jet cutting, and other manufacturing processes. They may be used in filtration media and as coating for ceramics and some metal parts.
Almandine garnet belongs to the member of the garnet group of minerals including six other varieties of garnet. It has a hardness of 7-7.5 on the Mohs scale, making it durable and resistant to scratching. It is basically dark red or brownish-red in colour, but can also be found in shades of colours like purple, orange, and pink. It has a vitreous lustre with dodecahedral or trapezohedral crystals.
Almandine is the most common member of the Garnet group and very popular gemstone being the most widely used Garnet in the gem trade. Almandine faceted gemstones are more compared to any other type of Garnet.
Almandine garnet value is dependent on its size, colour, and quality. Larger, high-quality stones can be valued at several thousand dollars per carat. Almandine garnet is also valued in the industrial market for its hardness and abrasive properties.