Drought, climate change and food security: A global concern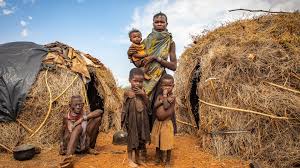 According to World Bank, 40% of the world's population resides in 275 transboundary river basins, which accounts for 60% of the world's freshwater flows. Reports have shown that closely 25% of the world's population faces a water crisis. According data released by the World Resources Institute (WRI), in 2019, 17 countries were reported to have experienced "extremely high" levels of baseline water stress.
This shows thatapproximately one-quarter of the world's population (about 1.7 billion people)at present faces water dearth. (Source: Science alert). The reports further revealed that twelve out of the 17 countries are in the Middle East and North Africa (MENA).
According to the World Bank, "these regions have the greatest expected economic losses from climate-related water scarcity, estimated at 6-14% of GDP by 2050."
It has been projected that the global population wouldreach 10 billion people by 2050. Consequently, thedemand for food and water is anticipated to surge.Farming accounts for almost 70% of all water withdrawals, and up to 95% in some developing countries.
Hence agriculture remains a major sector affected by water shortage. One of the major causes of water scarcity is not unconnected to climate change, a situation that has been predicted to deepen, resulting in extreme dearth of water with adverse effect on agriculture.
This could be the reason global super powers are now turning massively to agriculture while some of them are storing food aggressively.