Dangote refinery petrol hits market July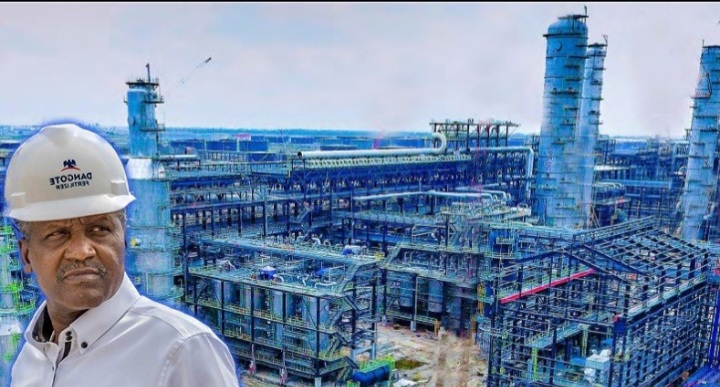 Dangote refinery petrol will start selling in July, founder of the refinery and CEO of the Dangote group, Alhaji Aliko Dangote, has said.
He stated that the refinery would start delivering refined products to the Nigerian market from July this year, as operators urged the Federal Government to ensure transparency in the supply of crude oil to the 650,000 barrels per day crude oil processing refinery.
Speaking at the inauguration event, Dangote said, "It is our firm commitment that we will replicate in this sector what we have actually achieved in the cement and fertiliser markets, while Nigeria transformed from being the largest importer of these crude products to a net exporter.
President Muhammadu Buhari who inaugurated the refinery, which is currently the world's largest single-train petroleum refiner, said his administration been deliberate about ensuring public-private partnerships.
He described the refinery as a milestone for the Nigerian economy and a game-changer for the downstream petroleum market in the African continent.
Buhari said, "I recall that just about a year ago, I was here to commission your fertiliser (plant) and had the opportunity to briefly inspect this refinery complex which was under construction. The Group Chairman, Aliko Dangote, assured me that the refinery will be ready for commissioning before the end of my tenure.
"I'm aware that this is not the first time that the Dangote Group under Alhaji Aliko Dangote's leadership is putting Nigeria on the global map through his bold investments in key industries. This has helped to transform our economy from heavy import dependence to a net exporter in some critical industries including cement and fertiliser."
At the inauguration, which had in attendance senior government officials from Nigeria and other African countries, Buhari described the refinery as a game-changer, just as the Founder/Chairman, Dangote Group, Aliko Dangote, declared that the facility would put an end to the inflow of toxic substandard petroleum products into Nigeria.
The project was inaugurated at the Dangote Industries Free Zone, Ibeju-Lekki, Lagos State. It was attended by governors, lawmakers, government functionaries, royal fathers, captains of industries and prominent Nigerians from all walks of life.
According to the president, "Our government, therefore, focused its attention on creating an enabling environment for the private sector to thrive and fill the enormous gap in investments, not only in infrastructure, but also in all critical sectors."