APPEALS project demonstrates eco-friendly equipment for rice farmers in Lagos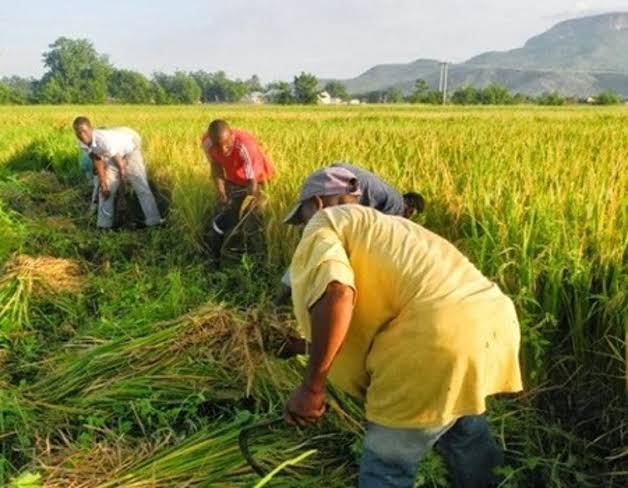 The Agro-Processing Productivity Enhancement and Livelihood Improvement Support (APPEALS) project on Monday demonstrated eco-friendly and cost-effective rice tillers, harvesters and weeders for rice farmers in Lagos State.
The project National Coordinator, Mr Mohammed Jobdi, made this known at the Technology Demonstration of Farm Operation Equipment -Motorised Bush Cutter and Harvester in Gberefu area of Badagry.
The APPEALS is a tripartite collaboration of the Federal, Lagos State Governments and World Bank to enhance productivity and livelihoods of smallholder farmers in rice, aquaculture and poultry value chains in the state.
Jobdi, represented by Mr Bukola Tijani, the National Procurement Specialist of the project, said that objective of the project is to improve productivity of farmers through application of new technology.
He said that the technologies were climate smart and environmentally sensitive.
"The aim of APPEALS is to enhance farmers' productivity through the introduction of new and improved technologies.
"Technologies that are climate smart and environmentally sensitive, because if we want to improve productivity that means we want to take them from Point `A' to Point `B' that will positively change of what they were getting before now.
"To also encourage them to do farming in an easy way, especially in attracting the youth to embrace agriculture.
"This technology will be addressing what we call environmental impact on the farmers in terms of energy consumption and reduction in chemical usage.
"It will also have a reduced chemical effect on the products," he said.
Jobdi commended the Lagos APPEALS on how far they had gone to improve the livelihoods, output and technology advancements of farmers in the state.
He added that the state coordinating office had been able to meet components one, two and three of the project.
Mrs Oluranti Sageo-Oviebo, the State Project Coordinator, said that the new technology would reduce excessive time spent on farm tasks like weeding, harvesting and tilling.
Sageo-Oviebo said: "The project is to bring improvement to what farmers used to have. For instance, if they used to have two metric tonnes of rice, they are sure of getting four tonnes now.
"That is the essence of our being here and then, instead of using your hands, cutlasses and hoes, these simple machines will save farmers the stress.
"When farmers adopt this technologies, we will support them after they draw up their business proposals; with the feedback we are getting, farmers are eager to hit the ground running," she said.
Sageo-Oviebo urged farmers to embrace the new technologies to improve their yields and scale the hurdle of poverty.
Also, Mr Segun Atho, Deputy President, Rice Farmers Association of Nigeria (RIFAN), said the project had taken away cutlasses and hoes from their hands and replaced with them with machines.
"We are ready, as a body, to implement this new technologies for improved productivity.
"We promise that when you come for monitoring next time, you will meet these machines in good conditions.
"Currently, rice farmers in Gberefu cultivates about 300 hectares of farmland to make Lagos a rice producing state," Atho said.
He also urged farmers to engage good agronomic practices, while seeking the help of the project to provide tube wells for farmers to easily access water during the dry season. (NAN)