13000 Birds to Be Sorted Out as Avian Flu hits UK City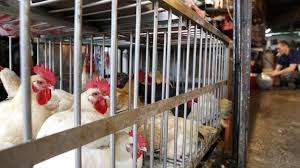 Thirteen thousand birds are to be culled at farm in Cheshire after avian flu was confirmed there.
The H5N8 strain of bird flu was detected at a broiler breeders premises in Frodsham, the Department for Environment, Food and Rural Affairs (Defra) said.
It said it was not related to the H5N2 strain found at a small farm near Deal in Kent earlier.
Public Health England (PHE) said the risk to public health was "very low".
All 13,000 birds at the farm, which produces hatching eggs, will be culled, said Defra.
Further testing is under way to determine if it is a highly pathogenic strain and whether it is related to the virus currently circulating in Europe.
The UK's chief veterinary officer Christine Middlemiss, said: "Immediate steps have been taken to limit the risk of the disease spreading.
"This includes 3km and 10km temporary control zones around the infected site.
Read also: Fires in Amazon Rainforest Escalates in October
"We are urgently looking for any evidence of disease spread associated with this farm to control and eliminate it."
Dr Gavin Dabrera from PHE said: "There have never been any confirmed cases of H5N8 in humans and the risk to public health is considered very low."
A Food Standards Agency spokesperson said: "On the basis of the current scientific evidence, avian influenza pose a very low food safety risk for UK consumers.
"Properly cooked poultry and poultry products, including eggs, remain safe to eat."