World Maritime Day: Call for Action to Save Nigeria's Maritime and Ecosystem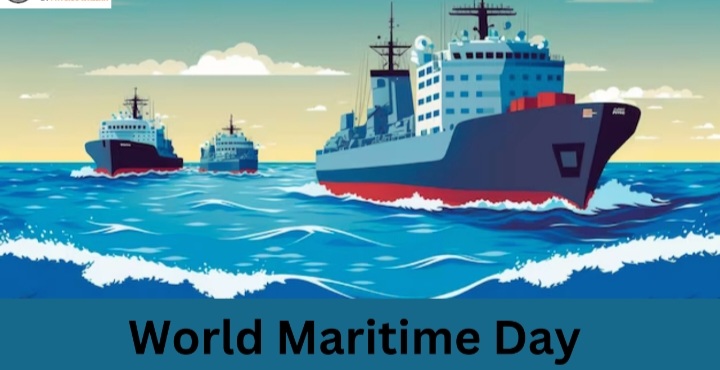 By Obiabin Onukwugha
On September 28, the International Maritime Organisation (IMO), marked the World Maritime Day, 2023 at the IMO headquarters, London with the theme: "MARPOL at 50 – Our commitment goes on".
In his message to commemorate the day, IMO Secretary-General, Kitack Lim, noted achievements already made in regulating to protect ocean health, but made it clear that significant work still faces the shipping industry.
"Shipping must embrace decarbonization, digitalization and innovative technology, including automation, while ensuring the human element is kept front and centre of the technological and green transition to ensure a sustainable planet for future generations. MARPOL has made a difference to shipping and to the health of our ocean and will continue to do so, as we look ahead to the next 50 years,"
"The theme, "MARPOL at 50 – Our commitment goes on", throws a spotlight on IMO's important regulatory work over half a century to protect the environment from the impact of shipping, and emphasizes the Organization's ongoing commitment to do more in support of the UN 2030 Agenda for Sustainable Development and the 17 Sustainable Development Goals (SDGs)", Lim said.
The United Nations Secretary-General, António Guterres, also called for all-hands-on-deck" to realize a just and equitable transition to a greener, decarbonized shipping industry.
Mr. Guterres said: "Through the decades, MARPOL has made important contributions to protecting our planet and ocean by making shipping safer and cleaner. Looking ahead, let us build on the legacy of this convention and together steer towards a more sustainable and prosperous future for this critical industry and a safer future for humanity."
Discussions during the event centred on how innovation facilitates higher environmental performance in maritime transport (MARPOL Annexes I-IV), complementing the prohibition on discarding plastic into the sea from ships with innovation and information (MARPOL Annex V); from IMO 2020 to IMO 2030: how IMO's fuel standards support innovation in marine fuel production (MARPOL Annex VI); and decarbonizing the Maritime Sector: innovative approach to bridging the Global North-South Gap, amongst others.
Nigeria is a signatory to the IMO and this year's theme and discussions, no doubt, underscores the need for the federal government of Nigeria to consciously adopt policies aimed at protecting its marine and ecosystem, using the prospects of the newly created Marine and Blue Economy Ministry as a vehicle.
It is also a call for relevant bodies and stakeholders to adopt programmes geared towards sensitising companies and individuals on the responsible use of the Marine environment for protection of the ecosystem.
In a message to commemorate the day, a constitutional lawyer in Port Harcourt, Rivers State, Angus Obinna Chukwuka, decried that plastic and vessel pollution have negatively impacted on the Nigerian Maritime and Ecosystem.
Chukwuka, who is the President, Admiralty Lawyers Society of Nigeria said marine pollution leads to colossal loss of plant and animal lives in the sea.
According to Chukwuka, the Nigeria marine environment is daily polluted by dump of empty water bottles and cans and other plastic wastes, which are swallowed by fishes and other aquatic life. He said consumption of such aquatic life has become danger to human consumption.
He said: "The Nigeria marine environment is daily polluted by dump of empty water bottles and cans and other plastic wastes. These are swallowed by fishes, turtles, crabs and other sea animals resulting in poisoning and death of aquatic lives
Through consumption of such foods humans are equally poisoned and their life span shorted or untimely death resulting.
"Also incidents of dump of toxic waste products along the coast and on marine areas by companies and individuals abound. These have similar effect as the sachet water bags and other plastics deposited at the marine environment. There is poor regulatory control by agencies concerned.
"Perhaps the most pronounced of the marine pollution types seem to be that of pollution of the seas by oil carrying vessels. This leads to colossal loss of plant and animal lives in the sea. Malnutrition and food poison becomes imminent. The sea water is no longer safe for human consumption. Agricultural materials and growth are seriously hampered due to ecological menace."
He attributed the menace to poor enforcement of environmental and relevant laws and called on the Nigeria Maritime Administration and Safety Agency (NIMASA), and the National Assembly, to take actions geared towards protecting the Nigerian marine environment.
"The major challenges are poor enforcement of our environmental laws. Added to this is that our law enforcement institutions are weak and show lack of capacity to protect our marine environment from the decay. It seems also that there is inadequate orientation of the civil populace on how the marine environment can be preserved.
"In view of these I call on NIMASA and other relevant agencies. We also call on the National Assembly to overhaul some of our legislations which are not up to date on the protection of our marine environment given recent technologies.
"We call on government to overhaul our maritime institutions and provide them with newer and better gadgets and funds to enable them patrol the coasts and maritime space to prevent and checkmate marine pollution.
"In conclusion, the time has come for everyone to join hands to ensure proper protection of our maritime space. We call on all and sundry to join in the efforts", he stated.
Recently, the House of Representatives mandated its relevant committee to investigate the poor implementation of the Coastal and Inland Shipping Act 2003 also known as the Cabotage Act.
The investigation which was a result of a motion moved by Awaji- Inombek Abiante (PDP, Rivers), is expected to unravel why the shipping trade is still dominated by foreign-owned vessels, especially as these vessels operate in violation to the Nigerian Maritime laws.