Tortoise (Kunkuru) the Cunning Creature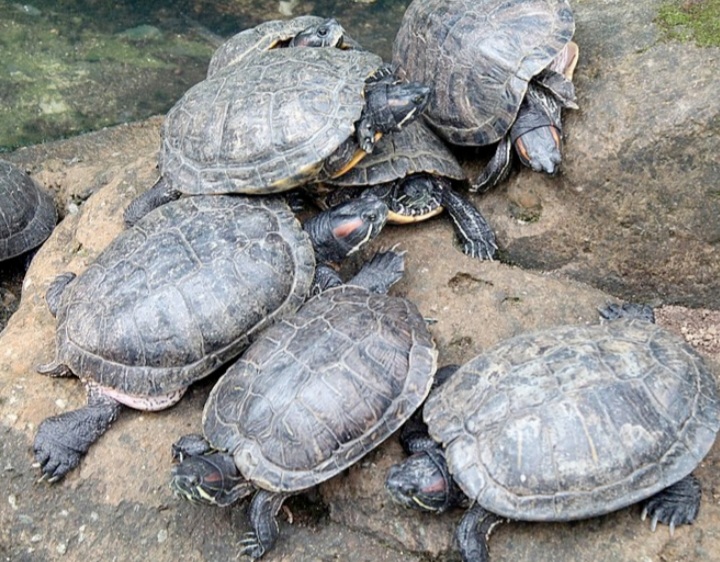 By Obiabin Onukwugha and Ngozi Eyeh
The Tortoise is a reptile of the family Testudinidae of the order Testudines. It reproduces through laying of eggs, which takes eight to ten weeks to hatch.
Reports say tortoises can be spotted copulating any time between June and March but it is most common after the rainy season in September.
Meanwhile, the red-footed tortoises will mate at any time of the year however prefer to lay their eggs from June to September.
Called Kunkuru in Hausa and Ìjàpá in Yorùbá languages, the Tortoise is very popular in African folktales for its wise and cunning attitude. The Igbos call it Mbe, Ijaws call it ikagi/iwiri, while Ibibios call it Ikut. In Odual, it is called Adughul.
Growing up as children during tales by moonlight in the village setting, a day of folktale hardly passes by without a tale of the Tortoise.
Why the Tortoise have draft shell?
According to the Odual folktale, the Tortoise (Adughul), and other animals in the Kingdom, had a media briefing with God. Because of its slow nature, some birds, including the eagle borrowed Iwiri some feathers to enable it fly to the briefing.
During questions and answer session, Tortoise, the Ikut asked "who is to share in the Transport largesse released by God, and it was answered "all of you".
We were told that the animals had agreed on the media houses for which they will write on the list to be prepared by the heavenly press secretary and Tortoise graciously said he was representing "All of You", media house, unknown to the other animals, what Kunkuru had in mind.
So after the press briefing, Ìjàpá, said the transportation provided by God belonged to him since the Almighty said "it is for "All of You", his media house.
Infuriated but helpless by the development, the eagle and other birds collected their feathers from Iwiri and left.
The other animals who also became dumb-founded all left, leaving Adughul to his fate.
It was also said that the transport which had both hard and local currencies were in Ghana-must-go bags and could not be carried by Mbe, the Tortoise as the road to heaven was long and without cars, Keke Napep (Tricycles) or luxurious vehicles plying it.
It was further gathered that Ikut had no option than to fall from heaven, since there was no lodging provision made for the briefing.
The aftermath of his fall was broken shells. Being exposed to danger and vagaries of climate change, Adughul had to pick up the pieces of his personal protective equipment (PPE) and mend them. But because he was not a good welder, he was left with draft shell.
Mbe also left the monies behind because he could not convey them.
Life Span:
Reports say the average life expectancy of tortoises is between 80 to 150 years. Some species are also known to live even longer, up to 250 years. In January of 2022, the Guinness World Records identified the oldest land-living animal, Jonathan, a 190-year-old tortoise, making him the oldest tortoise ever.
Environmental Benefits of Ìjàpá
Tortoise, the Ìjàpá play very important role to keep ecosystem healthy.
Tortoise and fresh water turtles are important seed and spore disperser for many plants, trees and fungi, promoted by periodical long distance movement and long gut retention time.
Snapping and soft shed turtles are also important scavenger that help maintain clean equation.
Uses of Tortoise Shell
The shell in tortoises is generally hard, and like other members of the suborder Cryptodira, they retract their necks and heads directly backward into the shell to protect themselves.
Also, Tortoise shell is used as an ornamental gem material for art objects, jewelry, and personal items such as combs and eyeglass frames.
Reports say the use for tortoise shell reached the height of its popularity during the 18th, 19th, and early 20th centuries. The live tortoise has a market value of between ten thousand to twenty five thousand naira, depending on its size.
In the Odual Kingdom tradition in Rivers State, the Tortoise is attributed to hard and delayed labour during child birth because of its slow movement and owing to its nature of either bringing out or retracting its neck. Adughul is therefore not to be eaten by pregnant women.
Weighing between 20-24 pounds with average length of 20-18 inches, Kunkuru in some climes, can be used for sacrifice, especially, those intended to hurt someone.