Rural Women, Global Food Security and Socio Economic Development: The Story of Charity Nelson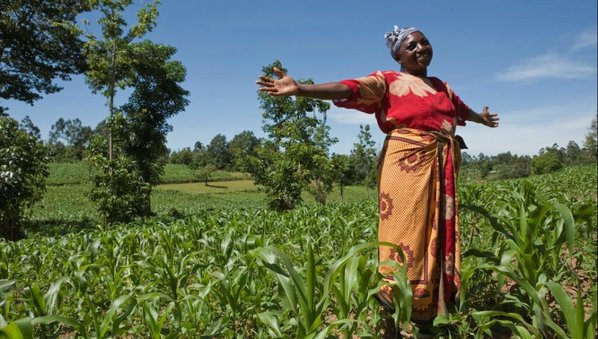 By Obiabin Onukwugha
Rural women play crucial role in contributing to global food security, Socio economic development and poverty eradication. From production of crops to processing, preparing and distributing foods, women paid and unpaid, labour to feed their families, and by implication, communities and the world at large.
This is especially in most societies, and developing countries like Nigeria, where women are vested with the role of directly or indirectly providing food on the table of their households, whether married or single mothers.
This is the story of a 54-year-old lady, Madam Charity Nelson. Losing her father at a very tender age, Charity could only obtain the West Africa Examination Council (WAEC), certificate as her poor mother could not afford to train her and her other three siblings in school.
Charity, was said to have trained herself through secondary school, with the earnings she got by joining her poor mother in the farm. Because she could not further her education, Charity resigned to farming and trading after secondary school.
Now a single mother of five children, Charity has since then, combined trading and faming to provide food and give her children higher education.
Besides majoring in these three farm produce, Charity also plant cocoa yam, potatoes, okra, pepper, and other vegetables in quantities enough to meet her household needs.
Charity, who hails from Okolomade Community in Abua/Odual local government area of Rivers State, told Naturenews Correspondent that she trades on banana, plantain, and garri, a business she has carried out for about thirty years.
Charity in an interview stated that through farming and trading she has also built a seven-bedroom bungalow for herself and her children, thereby contributing to community development.
"I am a farmer and a business woman. I trade on garri, plantain and banana. I have been doing this business for over 30 years now. With farming and my business I have been able to train my children in school and I have also built a house for myself and my five children children. I also use this business and my farming to provide food for me and my children. I also use it to take care of other needs too", she said.
However, Charity has also been affected by global food shortages and hardship occasioned by climate change.
Charity told also this correspondent that the yearly perennial flood and excess sunshine occasioned by global warming has affected her crop yield and business.
Besides climate change, the single mother of five further told Naturenews that the business is not without its associated risk as she and her co-traders most time spend the night on the road due to vehicle break down.
At other times too, Charity said they have been severally attacked by sea pirates which made them abandon sea route to use land transportation system.
Charity said: "I used to harvest my farm produce and then buy some to add and take it to the market. That is how I have been making my money since I started this business.
"But for some time now, flood have been consuming our farms. Even before the flood, we already notice that our harvest have reduced. You see many of them dying. So it is no longer like before but it is better than not doing anything."
"We come here at Abonnema Wharf all the way from the village every Sunday. We trade on Sunday and Monday and then we go home and prepare to come the next Sunday. Before now we (traders) used to be many and our product used to fill this place but now you can see (pointing to the market space), we are just a few and the goods are not as much as it used to be.
"Flood used to uproot plantain and banana then all our cassava used to die during flood, so right now I don't have any plantain or banana. All my farms were consumed by the flood last year.
"It is not just my farm. Most communities in Odual don't have plantations again so we go a distant to source for these goods. But you can't compare to when you harvest from your farm or buy nearly. We are only able to get some garri because we harvested our cassava on time.
"Before now we hire tippers and Dyna vehicles to carry our goods here but now you can see that it has reduced to a van.
"There is hunger. People don't have enough food again because of flood and low harvest."
Charity further lamented that her profit margin has been further reduced by hike in transportation occasioned by the fuel subsidy removal.
"Another challenge we have here is transportation. I want the government to help us revert the price of fuel because since the increase in fuel price the transport we used to pay has doubled. We are no longer making profit as we used to," she added.
It is in recognisng this all-important role played by rural women like Charity that the United Nations dedicated October 15th of every year to recognise their importance in society.
The first International Day of Rural Women was observed on 15 October 2008. "The international day, established by the General Assembly in its resolution 62/136 of 18 December 2007, recognizes the critical role and contribution of rural women, including indigenous women, in enhancing agricultural and rural development, improving food security and eradicating rural poverty", according to a UN report.
This is in line with the Sustainable Development Goals (SDGs) Goal 2 and Goal 5, which provides for Zero Hunger and Gender Equality, respectively.
This year's theme for the International Rural Women Day is "Rural women: cultivating good food for all."
A UN statement to commemorate the day said, the theme for the International Day of Rural Women 2023, highlights the essential role that rural women and girls play in the food systems of the world.
"Across the world, food systems depend on the daily work of rural women. They play a variety of essential roles, from raising crops and processing their harvest, to preparing food and distributing their products, ensuring that both their families and communities are nourished.
"Yet paradoxically those same women often have less access to food and a higher risk of hunger, malnutrition, undernutrition and food insecurity than their male counterparts. The reasons for this disconnect from their right to food include unequal power relations and discriminatory gender norms, for example, resulting in women eating last and least in the household, as well as their disproportionate responsibility for unpaid caregiving and domestic work.
"This International Day of Rural Women offers us a renewed opportunity to commit to a different way of organizing our world, to build on the vision of the Feminist Plan and on the outcomes and multistakeholder commitments of the recent United Nations Food System Summit, so that rural women benefit equally from their productivity, with good food enjoyed by all", the statement read in part.