Oyebanji Visits Flood Communities in Ekiti State, Orders Preventive Measures
Yemi Olakitan
Ekiti State Governor Oyebanji has visited Oja Oba/Old Garage area in Ado Ekiti on Saturday, which was recently inundated with severe and heavy rainfalls which led to disastrous flooding of the area.
The incident has a negative impacts on economic activities of the area with men and women lamenting their destroyed goods in the market.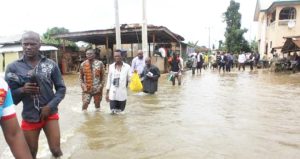 Governor Oyebanji promised the shoppers that he will take swift action to prevent additional or future floods in the area.
He assured the people of his Government's resolve to ensure that Ekiti State is free from flooding and other preventable disasters.
According to him massive de-siltation work has started in the area on Saturday.
"Drains, culverts, and access slabs from Ewi's palace to the areas surrounding Oja Oba and the Central mosque are to be de-silted."
"This urgent erosion control project is intended to reduce local flooding.The flood control projects will also rid all of the goods sold in the marketplaces of any contamination that could harm healthy living in addition to reducing the area's excessive floods."
"This evening, I and other government officials were at the market to oversee the de-siltation and make sure that the drain wastes were immediately packed in accordance with instructions. We took advantage of the chance to educate market vendors on proper waste disposal practices to avoid clogging culverts."