Lagos Recyclers Association Tasks Nigerians on environmental protection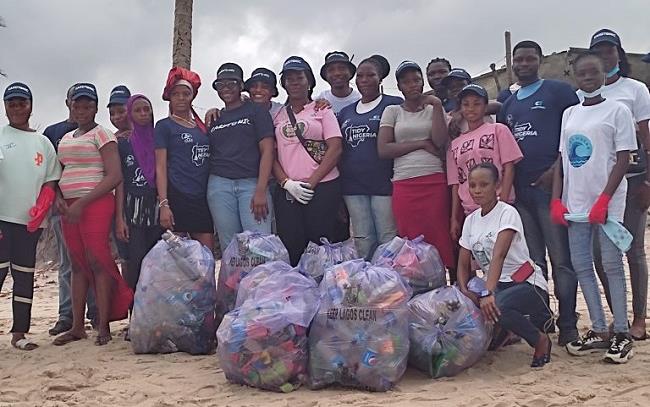 By Yemi Olakitan
The Lagos State Recyclers Association (LAGRA) in association with Lafarge Africa Plc has emphasized the importance of ongoing environmental management and cleanup efforts.
Lafarge representatives talked at the company's cleanup events for World Clean Up Day in 2023 at the Tejuosho Market in Lagos and Olabisi Onabanjo Market in Ijebu Ode, Ogun State.
Lafarge Africa employees from Ikoyi, Opebi, and Ewekoro, as well as corporate customers of Geocycle like Julius Berger, Bel Papyrus, A&P Foods, Pladis Global, and NAMPAK BEVCAN, and numerous volunteers, all attended the event.
All types of wastes including plastic bottles, straws, cans, wrappers, and food scraps, were gathered during the exercise. All of the waste were placed in compostable bags so that it could be disposed of and recycled properly. In addition, two sizable metal bins and cleaning supplies were given to the two market associations for recycling and plastic bottle disposal.
Temitope Dosumu, Head Commercial Manager, Geocycle, Lafarge Africa Plc, addressed the staff and volunteers at the Lagos event and thanked everyone for heeding the call to protect the environment.
"The exercise was used as a means to sensitize people about the need to ensure a clean environment, clean up litter from the market, and rid it of trash and poorly managed wastes," the spokesperson said.
Dr. Femi Idowu, president of LAGRA, who also spoke at the event, suggested that the best approach to observe the day was to visit markets and street corners and educate people on how to clean up their surroundings by picking up trash and other items that litter and contaminate the environment.
When highlighting the inherent worth in garbage, Idowu stated: "What people see as trash, is actually money, suggesting that people should see the economic value in waste materials."
There were Over 100 volunteers at the Olabisi Onabanjo Market for the  cleanup in Ijebu Ode, Ogun State. The cleanup project shows how Lafarge Africa upholds its commitment to sustainability.
Ibrahim Yaya, Biomass Sourcing Coordinator, Geocycle, Lafarge Africa Plc, said, "As a company, Lafarge Africa is committed to protecting and sustaining healthy, natural surroundings through the use of sustainable practices in all regions of operation.
"We all have a responsibility to conserve the environment and preserve it for the sake of future generations. Let's all practice responsibility in our daily lives and properly dispose of trash every day of the year, not only on World Cleanup Day."
"Nigeria's N33 trillion stock market is selling at a discount and is undervalued.
Analysts claim that the market is undervalued and presently trading at a discount, despite the overall equity market capitalization of over N33 trillion and the N5 trillion gain achieved in the first half of the year."
"Moving to net zero is not an option; it is a necessity."
Definitely true. Even though the expense of going green is not as large as people think, perceptions about it are a significant obstacle. Except in cases where the developer chooses expensive high-tech solutions, the cost premium of becoming green is typically no higher than five to ten percent."