Kaduna State Unveils Groundbreaking L-CNG Plant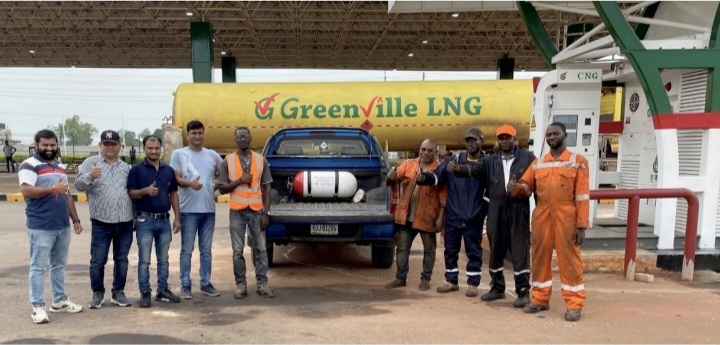 The Kaduna State Government has inaugurated the very first Liquid/Compressed Natural Gas (L-CNG) plant in Kakau, Kaduna State, providing an alternative for motorists.
This recent development comes in response to the challenging times brought about by the Fuel Subsidy Removal across the country.
During the inauguration ceremony, Architect Ibrahim Hamza, the Honorable Commissioner of Works and Infrastructure and the representative of the Kaduna State Governor, emphasized the significance of Greenville LNG's L-CNG solution.
He stated, "In an era characterized by volatile fuel prices and currency fluctuations in the global market, Greenville LNG introduces a robust answer in the form of LCNG. This transition is not merely accepted but enthusiastically embraced in Kaduna. It holds the promise of not only fostering economic growth but also revitalizing various Kaduna-based industries, including textiles, machinery, steel, aluminum, as well as the automotive and oil and gas sectors."
"The provision of a reliable power source through the L-CNG gas hub is of paramount importance for small and medium-sized businesses and industries. Furthermore, the establishment of these hubs is poised to address Kaduna's urgent energy security needs," he added.
This transformative change extends beyond businesses and also benefits the transportation sector, particularly the numerous keke riders who navigate Kaduna's roads daily.
For these riders, LCNG presents a cost-effective alternative to high-priced Premium Motor Spirit (PMS), offering financial relief and reduced stress.
Additionally, it promotes environmental sustainability, as Compressed Natural Gas (CNG) is well-known for its eco-friendliness and minimal emission of harmful pollutants, ensuring the well-being of both citizens and the environment.
Lauren Maubre, the Chief Executive Officer of Greenville, highlighted the cost-effective nature of LNG and CNG as alternatives to conventional fuels.
These alternatives can lead to a 15-20% reduction in petroleum and gas oil consumption. One of the most notable impacts of Greenville LNG's efforts is the economic empowerment of approximately two million KEKE NAPEP riders across Nigeria.
By providing an affordable substitute for conventional fuels, they not only enhance the economic well-being of these riders and their families but also mitigate the impact of fuel subsidy changes on the general public.
In a separate event, the Commissioner of Police for Kaduna State, Musa Yusuf Garba, officially opened a state-of-the-art Police Station in Kakau, donated by Greenville LNG Company.
Commissioner Garba commended Greenville for their support in maintaining security, stating, "I want to ensure that the Kaduna communities and citizens can sleep with both eyes closed, unlike the situation I encountered. You can see that we have made significant progress, and people can now move freely without fear or intimidation."
This demonstrates the positive impact of private-sector contributions to public safety in the region.