How Government Interventions Prevent Flooding in Lagos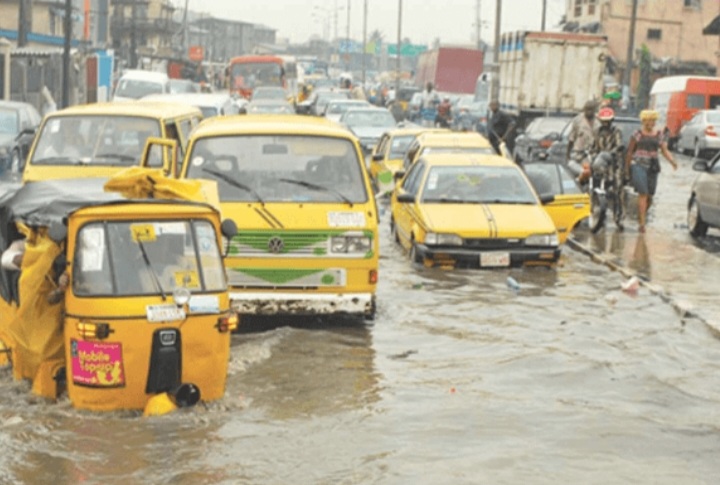 By Yemi Olakitan
Lagos State, the commercial capital of Nigeria is often refer to as a Megacity because of it's huge populations, despite the fact that it is surrounded by water and often experiences floods during heavy rainfalls.
However, Lagos has continued to survived floods through various interventions by the state government.
Flooding is a common, worldwide occurrence brought on by climate change, which has caused great concern throughout the world.
There have been numerous media reports of citizens in Europe, including Germany, The Netherlands, France, Italy, and Belgium, who are suffering from the disastrous impacts of flooding. Furious and savage floods are alleged to have carried motorists in New York away in their vehicles.
Lagos, which has an average elevation of 1.5 metres above sea level, does not encounter these disasters, despite having experienced exceptionally high rainfall in the past, since it is well prepared.
The weatherman has truly and consistently advised against floods.
Experts categorised the floods in Lagos as flash floods, which typically subside within a few hours.
This, according to sources, is the outcome of good drainage systems thanks to the work of Governor Babajide Sanwo-Olu's previous and current administrations.
When Governor Sanwo-Olu returned to office, he was clear about the goals he wanted to accomplish in the field of flood control and management. To this aim, he repaired various inner city roadways and installed effective drainage systems.
As of last count, 301 inner-city roads in the 20 local governments and 37 local council development areas had been rebuilt and rehabilitated, over 1000 housing units had been delivered, and 10 general hospitals had their surrounding drainage systems improved to meet global standards to prevent flooding, according to information from the ministry of information and strategy.
Mr. Babatunde Raji, an Islamic cleric who lives in the Agege Local Government, stated in an interview that Governor Sanwo-Olu has fixed nearly all of the streets' roadways and that as they are being rebuilt, drainage systems are also being built. Our gutters have previously been left exposed, creating an unclean and smelly environment. Due of the gutters' openness, people also tossed trash into them. But after taking office, Governor Sanwo-Olu had the Lagos State Government rebuild all the gutters and make them deep with high walls. In order to prevent anyone from dumping dirt into the gutters, they were likewise covered. This has aided in preventing floods on all of Agege's inner-city roadways, where I currently reside. He said.
In addition, the Lagos State Emergency Management Agency, or LASEMA, periodically issues alerts about potential food hazards in Lagos. The administration only recently advised inhabitants to leave their current locations and move to safer ones, especially those who lived downstream of the Ogun River.
This came after the Ogun-Osun River Basin Authority amended its water releases forecast for flood control, which became effective in September, given the anticipated high rainfall levels.
A statement by the Permanent Secretary, Office of Drainage Services and Water Resources in Lagos, Engr Lekan Shodeinde, said the affected catchment areas include Alagbole, Meiran, Maidan, Kara, Isheri-Olowora, Agiliti, Owode-Onirin, Owode-Elede, Agboyi I, Agboyi II, Ajegunle, Itowolo, Majidun, Ibeshe, Baiyeku, Maidan and Lekki-Ajah axis.
Shodeinde urged residents and property owners in the listed areas to be prepared to leave when the water level rises and flood signs appear, as is advised for all residents throughout the state. Shodeinde stated that the state government's top priority was the safety of residents' lives and their possessions.
Additionally, he appealed to all state residents, warning them to be on the lookout for flash floods because "Lagos is a coastal city that is bound to experience flash floods, and it is expedient for them to cooperate with the state government to ensure the success of measures put in place, including the early warning alert to mitigate the effects of flash flooding."
In an effort to work together to create a Lagos free of flooding, the agency occasionally meets with officials of the state's Local Government Areas.
Meetings with representatives of local government areas in the state, according to Permanent Secretary Dr Femi Oke-Osanyintolu, are part of the state's ongoing flood mitigation and adaptation awareness campaign, which has as its theme "A Flood Free Lagos 2023: Building Flood Resilience is our Collective Responsibility."
In an effort to educate the local government and inform them of measures to checkmate and prevent floods, LASEMA had also studied flooding in all of the council areas in the senatorial district.
High river levels, concentrations of overland flow caused by heavy rain, and obstruction of rivers and drainage channels designed to enable surface run-offs are among the major causes of flooding identified in LASEMA's investigation.
More bottles and water sachets are found in Lagos sewage systems than any other drainage system in the world, according to Mrs. Shola Abimbola, a resident of Lagos' Akesan neighbourhood.
Abimbola pointed out that although Governor Sanwo-Olu has made significant progress in restoring Lagos' drainage infrastructure since taking office, there should be no flooding at all on our roadways due to citizens' disrespect for environmental hygiene and sanitation.
Despite all these operations, Abimbola added, I think Lagos is reasonably flood-free because when it rains and everything is inundated, the waters dissipate into the drainage after a few hours. Therefore, I think the Lagos State Government is successfully battling floods in the state.
According to her, "80% of the disasters we are experiencing, especially flooding, are man-made. As a result, the people must change their perspectives on waste disposal and drainage protection."
The Lagos State Government is fully prepared to deal with floods in the state, according to Mr. Olalekan Shodeinde, the Permanent Secretary of the Ministry of the Environment and Water Resources' Office of Drainage Services.
Shodeinde pointed out that in order to educate the public about the socio-economic implications of the rainy season, the Nigerian Meteorological Agency, NiMet, and the Ministry produced the annual Seasonal Climate Predictions, or SCP, earlier in the year.
We want to reassure you that our state will keep benefiting from thoughtful and thorough planning, he added, adding that our flood control mechanisms are being strengthened to contain any impending rainfall.
The Permanent Secretary asked the locals to refrain from depositing trash into drainage channels and to regularly empty the drains in their frontage to enable the unimpeded passage of storm water in order to support the government's efforts.
All things considered, the continued influx of foreign direct investments into Lagos State is evidence that Governor Sanwo-Olu is doing a fantastic job of reducing and averting flood disasters in Lagos State.
Lagos leads the list for foreign direct investment with roughly $1.03 billion despite being 1.5 m above sea level. According to sources, it is also the continent's startup Capital.
The attention of tech behemoths like Microsoft, Facebook, and others is still drawn to Lagos. Despite having more than 40% of firms already operating there, the Lekki Free Trade Zone continues to draw them.