Group advocates for financial reward for waste recycling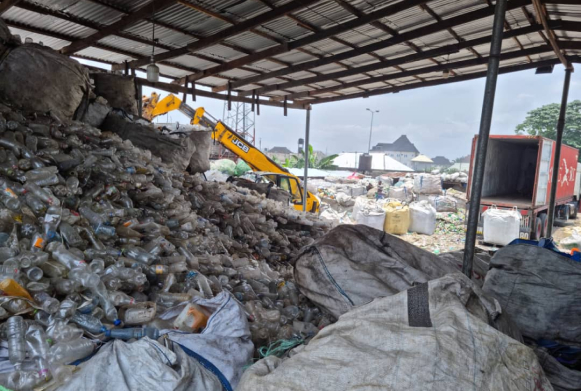 By Ojugbele Omotunde
An environmental sustainability organization called Pakam on Thursday, October 12, 2023 in Lagos, and demanded that people who recycle their garbage receive cash incentives.
According to Ms. Wunmi Ogunde, the group's founder, the incentive will help in the fight against pollution and other environmental problems.
Pakam is a digital marketplace for recycling, smart enforcement, and waste management.
It intends to support businesses in the waste management ecosystem by streamlining garbage operations and collection to maintain smooth business transaction flow.
Pakam seeks to increase community participation in garbage management by providing waste on-demand solutions and providing incentives.
What Pakam has been able to do is make sure that we always look at modifying how we handle trash disposal. The most significant action we take is this.
"In order to offer a different source of income and to promote environmental sustainability, we have expanded our reach to a variety of places, from low-income neighborhoods to middle-class neighborhoods.
"All of the plastics, PET bottles, and other things that typically wind up in the drainage are now recycled thanks to Pakam.
"With the help of the Pakam app, consumers can easily request that their recyclables be picked up and be compensated for the service.
"We've always worked to make sure that people have easy access to proper waste disposal," the environmentalist said.
Ogunde claimed that more people are engaging in recycling as a result of the Pakam app's release.
Since it is stressful to transport recyclables to recycling facilities, many individuals have previously complained that they are unable to participate in recycling activities.
"The convenience of coming to pick up recyclables at no additional expense while being compensated has been added, though.
"You can always go drop your recyclables off at your convenience in locations where they offer a drop-off center.
"We have specialized collecting centers in Maryland, Amuwo, and Lekki throughout Lagos. Effective collections are ongoing in these locations, according to Ogunde.
She reaffirmed the organization's commitment to continuing to reward users and to providing more benefits from recycling.
"Users have saved up their earnings on the app up to N100,000," the company said. Some of them apply to our health insurance program with this money.
Therefore, by bringing in recyclables, anyone who logs on to Pakam can gain access to healthcare insurance for as little as N1,500.
In order to promote more inclusivity and foster the creation of a space that is welcoming to everyone, both now and in the future, she continued, "We are also launching our USSD for communities that do not have smartphones."