Ghanaian Govt Acquires Oil Spill Detective Vessel to Boost Maritime Sector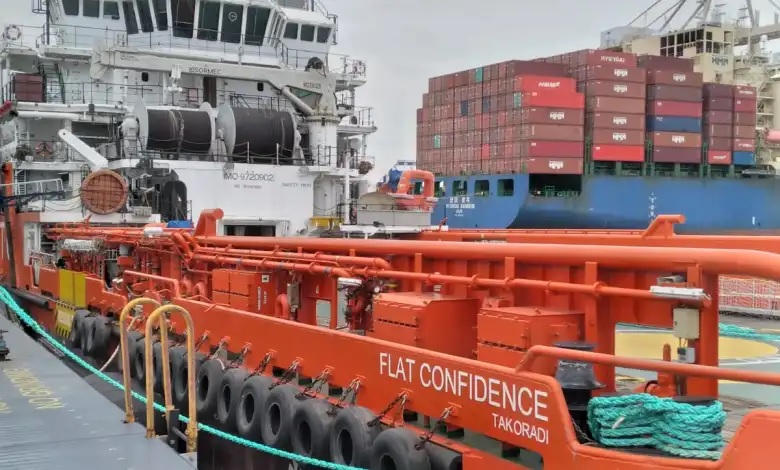 By Obiabin Onukwugha
The Ghanaian Government has acquired a multi-purpose oil spill detective and response vessel to boost its maritime sector.
The vessel christened Esther Afua Ocloo, was recently commissioned at the Sekondi Naval Base by President Nana Addo Dankwa Akufo-Addo.
It was gathered that the vessel named after the Ghanaian industrialist, Esther Afua Ocloo, who pioneered canned foods under the brand name Nkulenu, is fitted with an advanced oil spill recovery system made up of Desmi DBD 16 combination skimmer, HARBO oil spill boom, an oil spray dispersant system capable of handling Tier 1 and 2 spills in the harbour and offshore.
It was also gathered that the vessel has two aerial drones for wide area surveillance to identify activities and spills in the country's waters.
Ghana's Transport Minister, Mr Kwaku Ofori Asiamah, who spoke at the commissioning ceremony of the Vessel, praised the Ghana Maritime Authority, for the steps taken towards protecting Ghana's marine environment from oil spills, which according to him, have adverse effects on marine life.
Asiamah was also quoted of saying that the acquisition and unveiling of the oil spill response vessel Esther Afua Ocloo marked a significant milestone in the country's maritime sector.
"Given the rapid expansion of ports and offshore activities in Ghana it has become imperative for the Ghana Maritime Authority to expand its oil spill response recovery strategy to meet the growing demand.
"It was built in Singapore by renowned ship builders, Penguin Shipyard Asia Pte Ltd., and has an overall length of 40.00 metres, a moulded breadth of 7.60 metres, a moulded depth of 3.65 metres with a draught of 1.89 metres. It is fitted with three Cummins KTA36-m2 engines and three Caterpillar SR4 Alternator 86eKW generators," he said.
The Ghana Maritime Authority is said to have a long-term plan to increase the number of vessels and amount of equipment, and to train and equip staff to respond to Tier 1 and 2 oil spills.
At the same time it will be putting in place the necessary measures to detect spills within Ghana's maritime jurisdiction, and engage stakeholders for the purposes of creating awareness and preparedness.