Federal Government Ministers Assess Flooding Crisis in Isheri Community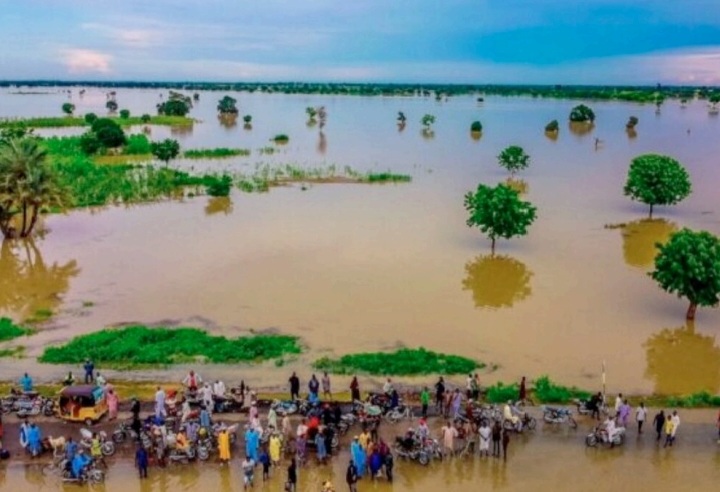 By Faridat Salifu
A visit by Federal Government representatives to the Isheri community in Ogun State on Wednesday, October 25, 2023, marked a significant step toward addressing the recurrent flooding issues in the region.
The delegation, led by the Minister of Water Resources and Sanitation, Prof. Joseph Utsev, and the Minister of State for Environment, Isiaq Salako, assured the community of their commitment to finding a lasting solution to the ongoing challenges.
Both ministers reaffirmed the government's dedication to resolving the pressing issue of flooding in Isheri, offering hope to the affected community.
Minister Salako highlighted that President Bola Tinubu is fully aware of the situation and has taken proactive steps to address it.
This underscores the President's profound understanding of the problem and his resolute commitment to delivering a sustainable solution.
Salako expressed optimism regarding the prospects of permanently addressing the flooding challenges.
He stressed the importance of conducting a comprehensive study to gain deeper insights into the situation, a vital step towards effective and sustainable solutions.
Through this study, the root causes of flooding can be identified and rectified, paving the way for a resilient and flood-free future for Isheri.
Minister Salako also emphasized the need to address various aspects, including the Ogun river, dams, drainage systems, and road infrastructure.
He acknowledged the irreversible impacts of climate change while underscoring the significance of environmental responsibility.
Factors such as improper waste disposal and obstruction of drainages were mentioned as contributors to flooding, highlighting the necessity of collective action to mitigate flood risks and promote environmental sustainability.
With President Tinubu's unwavering commitment and the proactive approach demonstrated by the Ogun State governor, there is a growing confidence in finding a permanent solution to the flooding challenges.
The Ministry of Humanitarian Affairs and Poverty Alleviation is fully aware of the situation and will take appropriate measures to provide the necessary support.
Furthermore, Prof. Utsev commended President Tinubu's proactive stance in addressing flooding issues nationwide.
The Federal Government has established a dedicated committee comprising experts working tirelessly to find solutions to these challenges, instilling hope for a better future.
Already, a team has assessed the flooding situation in Isheri, identifying the key challenges. The Federal Government's commitment extends beyond Ogun State, encompassing the entirety of Nigeria.
Governor Dapo Abiodun has taken proactive measures by formulating a drainage master plan to tackle longstanding drainage issues.
This plan, combined with proper river channelization, will efficiently manage excess water flow and safeguard residents. Buildings obstructing drainage channels will be removed to ensure the unimpeded flow of water.
The Isheri community appreciates the concern shown by the governor and the Federal Government and calls for immediate action to address the flooding challenges.