FactCheck: Is Scorpion venom the most expensive liquid in the world?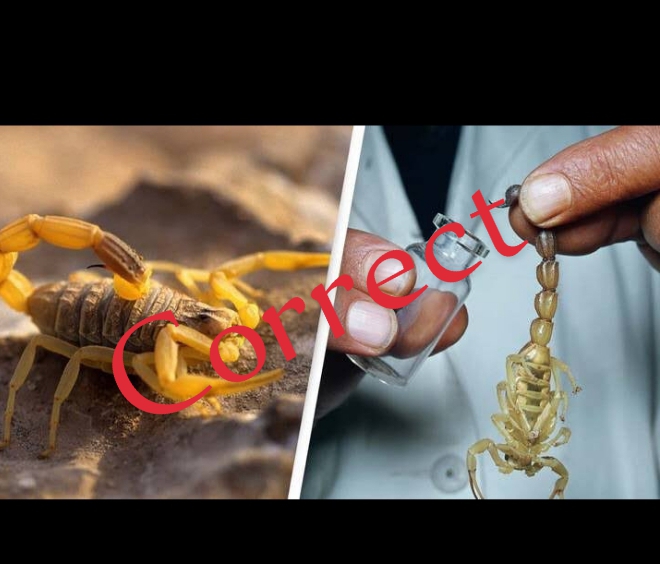 By Rashidat Oladele
A claim that the venom of a scorpion is the most expensive liquid in the world and hurts 100 times than a bee sting has recently surfaced online. The claim was made by Demi Farm on X (formerly Twitter). The post was made on November 15, 2023 at about 9:33 am.
As at the time of this check, the post had garnered 160.8k views, 82 comments, 426 Bookmark, 646 repost and 1.3k likes.
Claim: "Scorpion venom is the most expensive liquid in the world; hurts 100 times more than a bee sting
Findings
To verify this claim, NatureFact conducted several online researches.  According to a research finding of the National Institute of Health, Scorpion venom has been tested for its possible benefits for human medicine. Current research on scorpion venom is slow going, but there are a number of medical possibilities. Some people believe scorpion venom can one day be used to cure Lupus and Rheumatoid Arthritis. It has already been explored to help with some cases of multiple sclerosis and cancer, and to help with heart transplants. Early research has found that painkillers derived from a chemical in scorpion venom are very effective for certain types of pain. However, it also has some drawbacks, such as addiction and side effects. Chlorotoxin from the deathstalker scorpion (Leiurus quinquestriatus) has been investigated for medical use. The toxin blocks small-conductance chloride channels. Maurotoxin from the venom of the Tunisian Scorpio maurus blocks potassium channels.  Scorpion venom contains a protein called chlorotoxin that can block muscle cells from relaxing and cause paralysis. This venom is used to treat brain tumors in humans and prevent muscle movement during surgery.
A search conducted on ten most expensive liquids in the world revealed that scorpion venom cost $39M per gallon ranking first followed by Cobra venom which cost $153,000 per gallon.
Further search on Science ABC, a science related blog also showed that scorpion venom is the most expensive in the world costing $10,302,700 per litre.
Verdict: Correct
NatureFact findings showed that scorpion venom is the most expensive in the world.