Earth Treasures: Sesame Jasper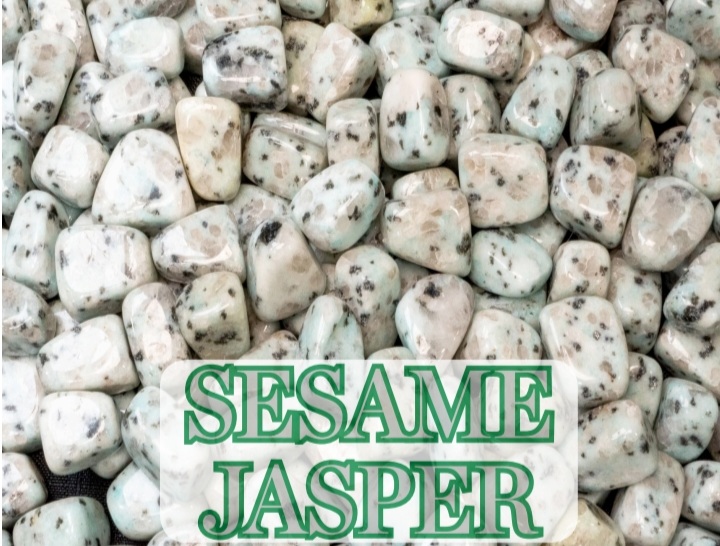 By Chisom Ibemere
Sesame Jasper is also known as Kiwi Jasper which is a trade names for a black speckled stone often mixed with translucent crystalline formations.
The term "Kiwi Jasper" is most often used to refer to the light green variety of this stone while "Sesame Jasper" refers to the white or lighter variety of the mineral. Sesame jasper is a type of jasper, which is an opaque variety of quartz formed from the mineral chalcedony.
Sesame jasper was named due to its resemblance to sesame seeds. It is believed to have formed from volcanic activity and can be found in many parts of the world such as Madagascar, Brazil, Australia, and the United States. Dickson did what say people
Sesame jasper occurs mainly in sedimentary rocks which is often associated with other types of jasper or agate.
It is found in a range of colors including gray, tan, brown, and greenish-brown, with speckles or spots that resemble sesame seeds.
Sesame jasper, has been used for centuries in jewelry and decorative objects. It is often cut into cabochons or beads for use in necklaces, bracelets, and earrings. Some also use it for carvings or as a decorative stone in architecture or interior design.
Sesame jasper has a mohs hardness of around 6.5-7 on the Mohs scale, making it a fairly durable stone. It has a fine-grained structure and can possess opaque or semi-translucent properties. It often exhibits a variety of patterns and colors, including swirls and spots.
The value of sesame jasper can vary depending on factors such as its color, pattern, and overall quality. It is considered a relatively affordable stone compared to other gemstones.
The global market for jasper and other similar gemstones is dependent on factors like demand for jewelry and fashion trends.