Deep Blue 1 Ship to Increase China's Fish Production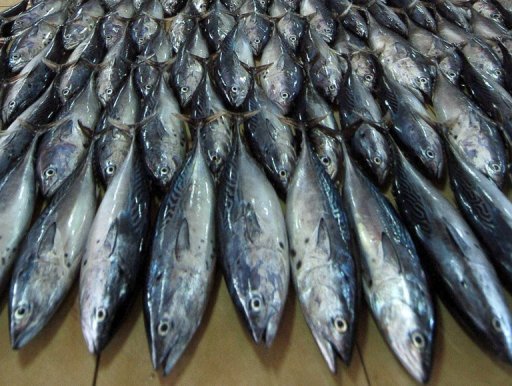 By Obiabin Onukwugha
The Chinese government has built a ship to further boost its fish farming industry. The Octagonal vessel christened Deep Blue 1, is China's first offshore aquaculture base for farming salmon.
The vessel, which extends 30 metres into the water, is said to be enclosed by black mesh that prevents fish to escape. Reports say the cage has a volume of 50,000 cubic metres, and room for 300,000 salmon with expected yield of 1,500 tonnes of fish per year.
This factory-type aquaculture vessel contains 15 tanks with a total volume of nearly 90,000 cubic metre, while stock density is four to six times that of traditional net pens.
China is developing various forms of offshore aquaculture. According to data earlier released by the Chinese Ministry of Agriculture and Rural Affairs, "coastal provinces have already brought into use more than 20,000 "gravity cages", each formed of a net and a floating collar 40 steel-framed sea cages, like Deep Blue 1, and four aquaculture vessels."
Reports say China's offshore aquaculture currently spans nearly 44 million cubic metres of water, yielding almost 400,000 tonnes of seafood, more than 20% of national mariculture, or marine farming, output.
Before the Deep Blue 1, the country previously used the Guoxin 1 aquaculture vessel which was designed to produce 3,700 tonnes of fish annually. The Guoxin 1 is a floating fish farm with the size of an aircraft carrier. In its first trial phase, the vessel produced more than 1,200 tonnes of large yellow croaker but has been upgraded to Guoxin 2 and Guoxin 3, due for delivery in March 2024.
According to the Chinese Ministry of Agriculture and Rural Affairs, the Deep Blue 1 cruises between the Yellow and South China seas, avoiding typhoons and "red tide" algal blooms, and keeping to waters in the 22C to 26C range suitable for the fish.
It also said the Deep Blue 1 is merely a taster for future developments in Chinese offshore aquaculture.
The ministry said: "With another five years, we aim to increase the scale of offshore aquaculture nationally by 16 million cubic metres, to more than 60 million cubic metres, and achieve annual offshore aquaculture output of more than 600,000 tonnes – more than 25% of sea-farmed fish products."
Another of China's large-scale offshore fish farms is the Blue Diamond 1. Positioned 10km off the coast of Shandong province's Laizhou Bay, this fenced sea-cage boasts a volume of 160,000 cubic metres, and is currently farming spotted knifejaw (Oplegnathus punctatus), a high-value sushi-grade species. The facility was built to withstand typhoon-strength winds and nine-metre waves. (Illustration: Ricardo Macía Lalinde / China Dialogue Ocean)