Climate Change, Human Factors Exacerbate Flooding Catastrophes in Libya, Greece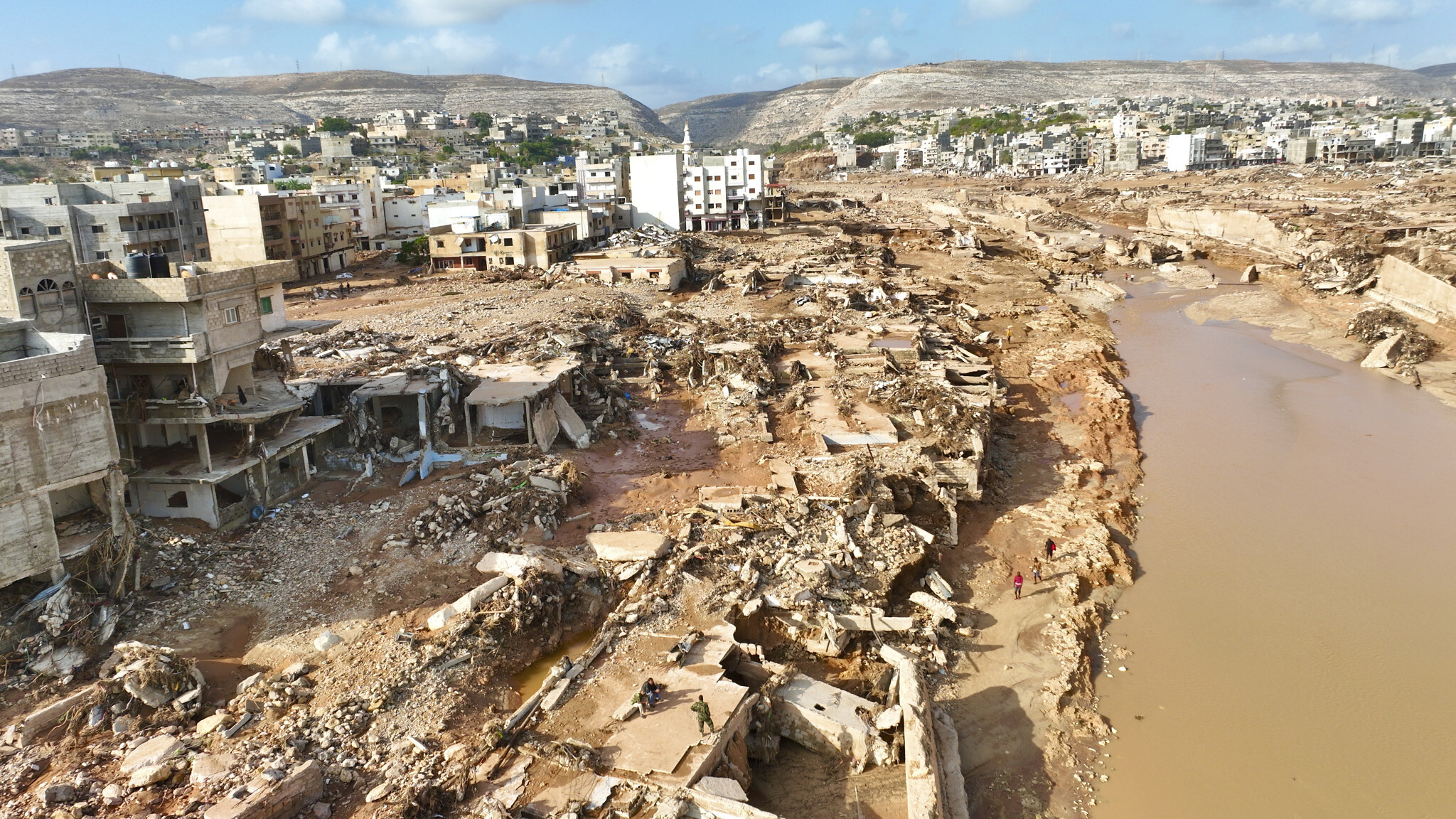 By Faridat Salifu
In a press release issued on Tuesday, September 19th, the World Weather Attribution group, referred to as WWA Libya Greece, revealed that a combination of climate change and local factors significantly worsened heavy rainfall and flooding disasters in Greece, Bulgaria, Türkiye, Libya, and Spain in early September.
The study conducted by an international team of climate scientists highlighted the impact of human-caused warming on these extreme weather events.
The research found that climate change, driven by greenhouse gas emissions, increased the likelihood of heavy rainfall events by up to tenfold in Greece, Bulgaria, and Türkiye.
In Libya, the risk was even more pronounced, with heavy rainfall events made up to 50 times more likely due to climate change. This extreme weather was further compounded by local factors, including construction in flood-prone areas, deforestation, and the ongoing conflict in Libya.
In early September, a cut-off low-pressure system affecting Spain and a Mediterranean low-pressure system named Storm Daniel brought prolonged heavy rainfall over a ten-day period to several countries. The resulting floods had devastating consequences, with fatalities reported across the affected regions.
The most severe impact occurred in Libya, where the flooding led to the collapse of two dams. Although the exact casualty figures remain uncertain, Derna alone has confirmed 3,958 deaths, with 170 more reported elsewhere in Libya, and over 10,000 people still missing.
To assess the role of climate change in these events, scientists analyzed climate data and computer model simulations, comparing the current climate, which has experienced approximately 1.2°C of global warming since the late 1800s, with historical climate conditions.
Their findings revealed that, in Libya, climate change had made such events up to 50 times more likely, resulting in up to 50% more rainfall during the period.
However, it's important to note that even with this increased risk, such events remain extremely rare, with an occurrence expected once every 300-600 years in the current climate.
For Greece, Bulgaria, and Türkiye, the analysis demonstrated that climate change increased the likelihood of heavy rainfall by up to tenfold, accompanied by up to 40% more rainfall. In these regions, the events have become more common, with an expected frequency of once every ten years for the larger region and once every 80-100 years for central Greece.
In Spain, where heavy rainfall occurred within a few hours, the scientists estimated such events to happen approximately once every 40 years, although they could not perform a full attribution analysis due to the inadequacy of climate models for short-term heavy rainfall predictions.
The study acknowledged the mathematical uncertainties associated with these findings, given that the events transpired over relatively small areas, and most climate models do not accurately represent small-scale rainfall patterns.
However, the researchers expressed confidence in attributing these events to climate change due to several factors, including increased temperatures generally leading to heavier rainfall, the absence of evidence suggesting reduced heavy rain, and observed trends of increasing rainfall in the region.
A significant revelation of the study was the role played by high population vulnerability and exposure in amplifying the impacts of these extreme weather events. In central Greece, the majority of cities and communities, along with a significant portion of infrastructure, are situated in flood-prone areas.
In Libya, a combination of factors, including ongoing armed conflict, political instability, potential dam design flaws, and inadequate maintenance, contributed to the disaster. The interaction of these factors, coupled with heavy rainfall intensified by climate change, resulted in extreme destruction.
The research was conducted by a team of 13 scientists from universities and research centers in Greece, the Netherlands, the United Kingdom, and the United States.
Quotes from Key Figures:
* Vassiliki Kotroni, Research Director at the National Observatory of Athens, emphasized the need for reorganizing early warning systems and infrastructure design in response to the era of climate change.
* Friederike Otto, Senior Lecturer in Climate Science at Grantham Institute – Climate Change and the Environment, Imperial College London, stressed the importance of reducing vulnerability and enhancing resilience to extreme weather events.
* Julie Arrighi, Director at the Red Cross Red Crescent Climate Centre, highlighted the need for practical solutions such as improved impact-based forecasts, warning systems, and climate-resilient infrastructure to prevent these disasters from becoming routine.