Campaigners cycle from Abuja to Lagos to inspire climate action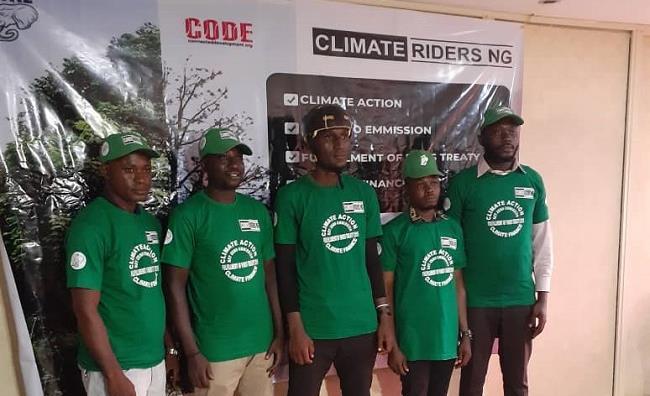 By Ojugbele Omotunde
Young environmental rights activists are cycling from Abuja to Lagos to raise awareness about the need to empower vulnerable Nigerians to adapt to climate change effects.
Under the auspices of Climate Riders Nigeria, the activists called on the government to find green skills for communities impacted by climate change and to search for fossil fuel substitutes in order to help the nation reach its 2060 net-zero emission reduction goals.
Like many other developing nations, Nigeria is still dealing with the dire consequences of climate change, which have shattered peaceful cohabitation, put millions of people at risk of starvation, and jeopardized sources of income.
This group of activists thinks cooperation is necessary to solve this issue and foster national unity, especially when it comes to financing and technological resources that may help people anticipate and prevent climate risks.
The campaign team leader, Ismaila Babatunde, said, "This is not about me; it's about humanity, our future, and the posterity of the human race."
At a news conference held in Abuja on Monday, October 23, 2023, to mark the formal beginning of the exercise, Babatunde made the following statement: "It is time for the political class to demonstrate their commitment to advancing climate action and helping Nigeria achieve its Paris Climate Agreement."
Using a range of social media platforms, he added, he and his crew will be cycling from Abuja to the states of Kogi, Ondo, Ekiti, Osun, Oyo, Ogun, and Lagos in order to engage a bigger audience and teach them about the significance of ecological conservation.
He continued, "As I travel through, I will be raising public awareness, educating some rural and urban communities, and interacting with state governors, local government officials, and traditional institutions."
In anticipation of the United Nations Climate Agreement's (COP28) impending two-week long meeting in Dubai on November 30, 2023, environmentalists urged developed nations to increase climate finance for developing nations—especially Nigeria and Africa—by two or even three times in order to help them deal with the impending climate catastrophe.
According to data issued in 2022 by the International Monetary Fund (IMF), the front-runner in the campaign bemoaned the fact that Nigeria is among the ten West African nations most exposed to climate dangers, an exposure that is already having a terrible effect on the populace.
He therefore tasked the assembly in Dubai with making sure that the Paris Climate Accord is upheld, saying that "we need more action in capacity building, financing, and technology to address this global crisis and achieve net zero by 2060," rather than just making mouthwatering promises.
He clarified that the project's objective is to expedite climate action, which is why "I have stepped up to inspire hope."
Therefore, he called on everyone in Nigeria, especially those employed in the creative and entertainment sectors, to band together in order to spread awareness of the issues brought about by the climate calamity.