World Heart Day: FG Urge Citizens to Ensure Healthy living to Avert Heart Diseases, Launch's CERB Box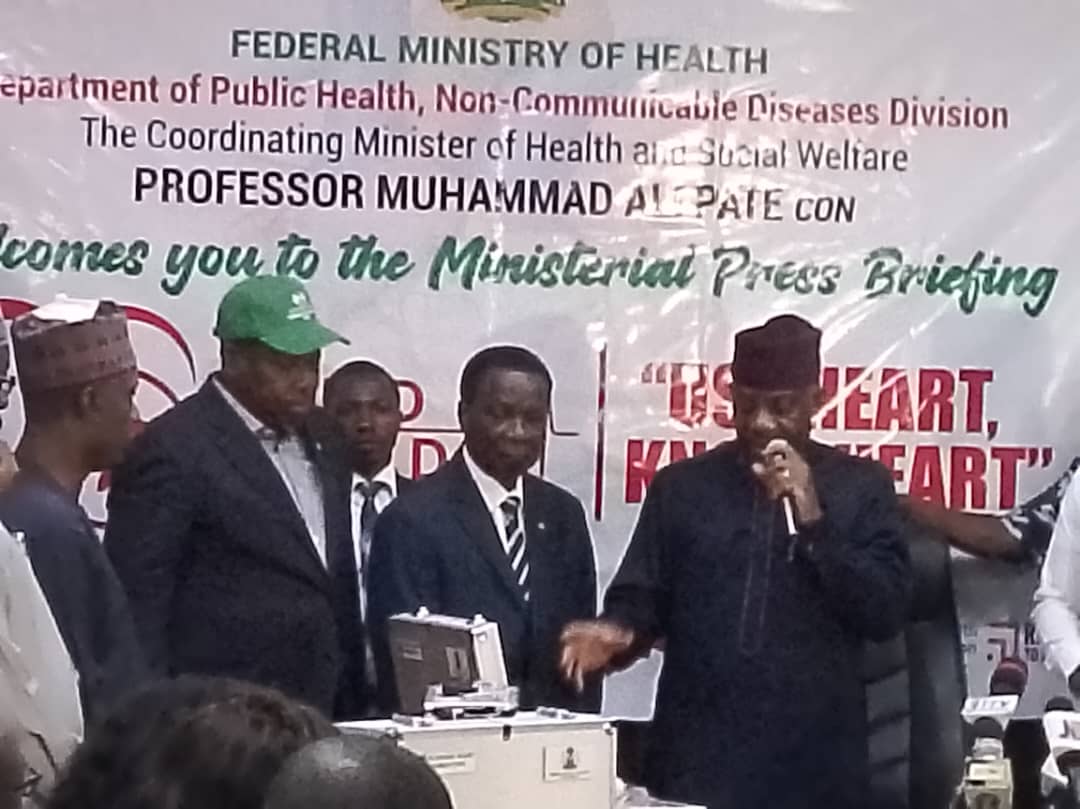 By Fatima Saka
The federal government of Nigeria has emphasized on healthy living to prevent the heart from contracting related diseases, saying that as humanly possible individuals need to protect its heart against diseases and conditions that will cause it to malfunction, hereby launched Cardiac Emergency Response Box (CERB)
Coordinating minister of Health and Social Welfare, Prof. Muhammad Ali Pate made this call on Friday during the ministerial press briefing in commemoration of World Health Day 2023.
Focusing on this year theme: "Use Heart, Know Heart"
Prof. Pate, who was represented by the State Minister for Health & Social Welfare, Dr Tunji Alausa, emphasized that the heart is one of the vital organs of the body. "It is the engine room responsible for pumping life-sustaining blood to all parts of the body.
"In an average adult at rest, normal heart rate is 60-100 beats per minute, and with each heartbeat, the heart pumps 70 milliliters (mL) of blood out of the heart, which is equivalent to 5-7 Litres of blood per minute.
The minister said that World Heart Day is a day set aside by the Cardiovascular Health Community all over the world to raise awareness about the importance of the heart and promote preventive measures to reduce the global impact and burden of heart diseases, adding that this year's theme, beyond encouraging us to learn more about our hearts and how to keep them healthy, also enjoins us to show care and compassion to people who suffer from heart problems.
"It reminds us that taking care of our hearts and those of others is not only a medical necessity but also a fundamental act of self-love and care for our loved ones.
He further stated that statistics from the World Health Organization show that cardiovascular diseases (CVDs) are the leading Non-Communicable Diseases (NCDs) and are the foremost cause of death globally, taking an estimated 17.9 million lives each year of these cardiovascular deaths, 85% are due to heart attack and stroke, and over three-quarters occur in low- and middle-income countries.
"The 2018 WHO Non-Communicable Diseases (NCDs) Country Profiles show that NCDs accounted for 29% of all deaths in Nigeria with cardiovascular diseases responsible for 11% of all the NCD deaths. The country profile also shows that the risk of dying prematurely from NCDs in Nigeria is 22% Premature mortality in this instance is defined as death occurring between ages 30 and 70 years from any of the common NCDs."
The minister reiterated that the majority of heart diseases are preventable. " I therefore urge you to adopt a healthy lifestyle to always make your heart age longer and healthier."
However, highlighting and advising on the following: "Engage in physical activity for a minimum of 30 minutes daily. Some physical activity options include using the stairs instead of the elevator, trekking instead of taking the bus for short distances, standing up from your seat intermittently to stretch your body. Physical activity relieves stress, keeps you fit, and controls body weight.
"Avoid tobacco use and exposure to second-hand smoke. iii) Avoid harmful intake of alcohol. Abstinence is the best.
"Eat a healthy diet containing a minimum of 3-5 servings of a variety of fresh fruits and vegetables spread over each day. In addition, eat a variety of whole grains, lean meat, fish, peas, beans, and lentils. Limit processed foods, limit salt intake to less than 5 grams (1 teaspoon) daily, reduce dietary cholesterol, and avoid industrially produced trans-fats.
"Know your numbers by regularly checking your blood pressure, cholesterol, and glucose levels."
He also revealed that the Ministry, in collaboration with partners, will be carrying out free hypertension screening and counseling for Public/Civil Servants in and around the Federal Secretariat Complex Phase 1 and Phase 3 and the Nnamdi Azikiwe Airport to encourage individuals to take advantage of this opportunity and get screened.
The minister further commended the World Health Organization, Nigeria Heart Foundation, Resolve to Save Lives, Power Oil and Codix Pharma Limited for collaborating with the FMOH to mark this year's World Heart Day.
In her opening remarks, Daju Kachollom Permanent Secretary, Federal Ministry of Health and Social Welfare, who was represented by Dr. Chukwuma Anys Ike Director of Public Health stressed that Nigeria is running towards a double burden county in extent that the Non communicable diseases are running in the same levels with communicable diseases, adding that, this is the status of health system condition in Nigeria right now.
Emphasizing on this year's theme, the Permanent Secretary stressed that the heart is the engine of the body, saying if the heart stopped working it becomes a big problem.
"Most of the problems with the heart are related to the lifestyle of individuals, causing a lot of modality globally because of individuals' eating styles."
She however, added the ministry of health has provided guidelines and that they will follow strikely in implementing the guidelines.
Also, in his remarked, Dr. Kelias Msyambola, Country Representative of World Health Organization, (WHO) emphasized on the theme "Use Heart, Know Heart", stated that it is aimed to empower individuals to take control of their-being because knowledge about healthy heart is limited and when one knows his/her heart more he/she can take better care of it.
"Knowing "your heart" includes: Knowing your blood pressure, heart rate. cholesterol levels, among others."
Further commended the ministry for their efforts, adding WHO is committed to continued support to the Federal Ministry of Health and Social Welfare to prevent and control NCDs including cardiovascular diseases.
Speaking also, Mr. Abiola Awe, a representative of Nigeria Heart Foundation said the AEDs are the only way to restore a normal heartbeat when someone is experiencing a cardiac arrest.
He added that to help someone who is in cardiac arrest survive, a defibrillator needs to be found as quickly as possible.
"Nigerian Heart Foundation will promote the message, advocating for the inclusion of these Cardiac Emergency Response Box (CERB) as an essential package for prevention of deaths resulting from sudden cardiac arrest in public institutions and privately owned organizations such as Airpofis, Banks, offices, Malls, Sports centers, Gyms Schools, among others."