Severe Flooding Devastates Akpet Central in Cross River, Prompting Urgent Calls for Action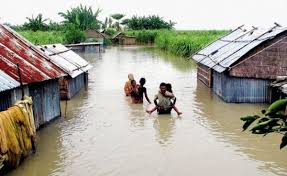 By Faridat Salifu
Recent heavy rainfall has wreaked havoc on communities within Akpet Central, located in the Biase Local Government Area of Cross River State, resulting in the submersion of approximately 70 homes.
The deluge has not only displaced residents but also caused property damage estimated at over N100 million.
Community leaders, Dr. Samuel Egbai and Mr. Ogban Ogban Ethothi, have shed light on one of the root causes behind this disaster—the abandoned construction of the Akpet culvert, left in disrepair for the past three years following the rehabilitation of the Akpet section of the Calabar/Ugep highway.
According to them, the subpar construction of this culvert by the contractor has exacerbated the flooding crisis.
Hon. Francis Ogban, the representative of Biase Constituency in the Cross River House of Assembly, visited the affected communities on Sunday to assess the extent of the damage.
He expressed deep concern over the adverse impact of the flood, especially its disruption of farming activities in Akpet communities. Many residents have been forced out of their homes due to the flooding, leaving their livelihoods in jeopardy.
Ogban stressed, "The flood has had a devastating effect on farmers, displacing numerous villagers and undermining their means of earning a living."
He appealed for swift assistance from the State Emergency Management Agency (SEMA) to aid those affected by the flood disaster.
Furthermore, Ogban called upon the Federal Ministry of Works to take action, urging a private construction firm named SEMATECH to reconstruct the Akpet Central culvert from ring to box to prevent further property destruction.
This dire situation underscores the urgent need for infrastructure improvements and disaster relief efforts in Akpet Central and highlights the vulnerability of communities facing the devastating consequences of natural disasters.