SEPTARIAN NODULE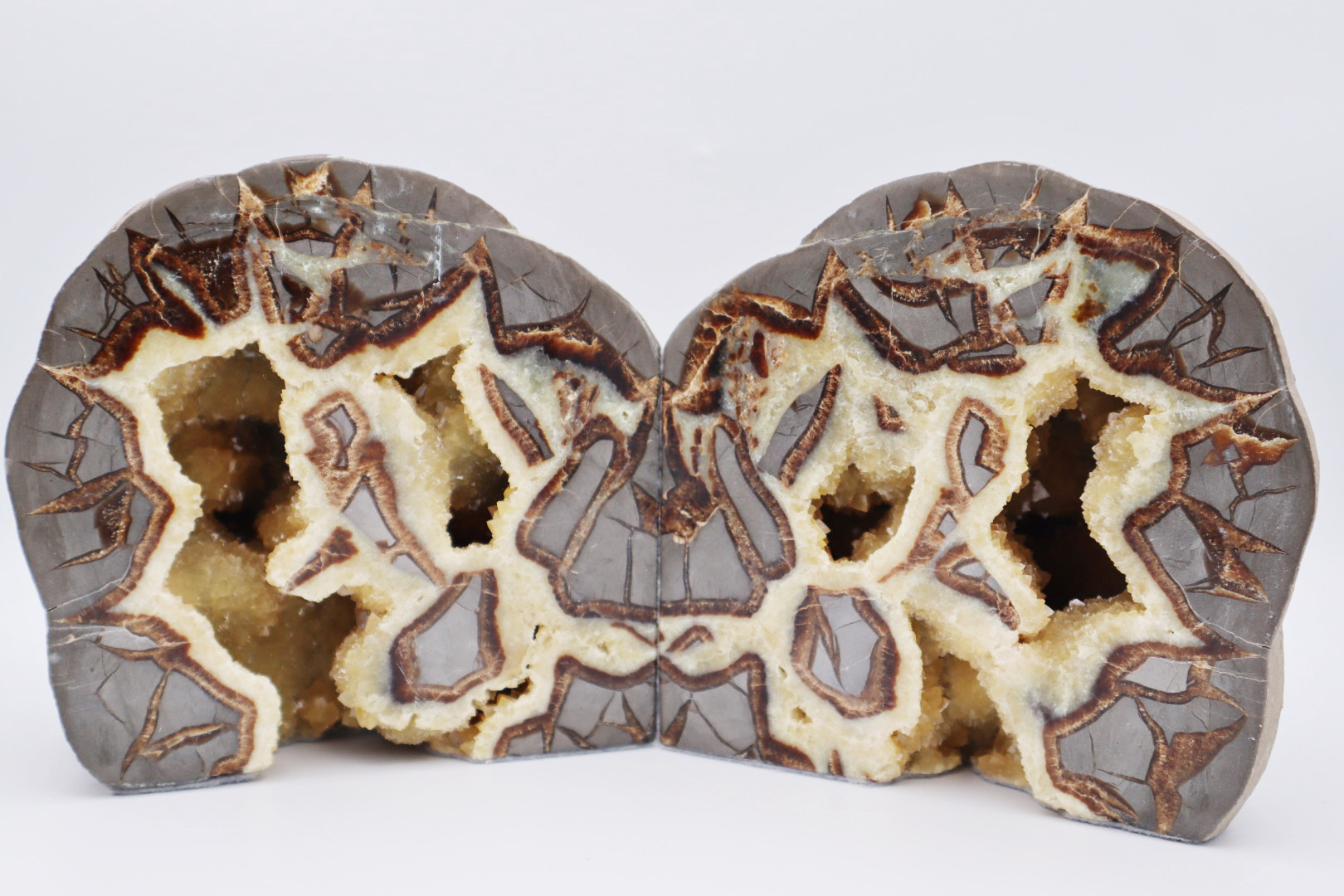 BY CHISOM IBEMERE
Septarian Nodules are fossilized mud bubble known to have formed during the Cretaceous Period which began approximately one hundred and forty five million years ago and ended sixty six million years ago around the time the dinosaurs disappeared.
They formed in bodies of water as minerals and organic matter accumulated around a centre mass and gradually over millions of years and with the help of various geological processes like volcano hardened and became cemented together forming a nodule.
Volcanic eruptions and other occurrences resulted in the death of small sealife that then sank to into the sea-bed. As the specimens decomposed, sediments would accumulate and create a nodule or mud ball. When the oceans eventually receded, these mud balls were left exposed to the air and dried out, causing shrinking and cracking. The beautiful patterns you see inside septarian nodules are the result of this cracking.
Septarian nodule, also known as Dragonstone, is a unique blend of stones, minerals, and organics. They are often formed within limestone deposits and are milled out of them. Formation requires chemical reaction. It combines minerals such as Aragonite, labradorite, bentonite, and calcite. The combination of minerals creates interesting contrasts in texture and color, making it a desirable stone for home decor.
A septarian nodule is composed of the mineral Calcite (yellow centre), aragonite (the brown lines) and limestone (the matrix).
They are composed of calcite, aragonite, and are coated in limestone. Septarian Nodules form in air bubbles which create crystal pockets.
Septarian nodules are characteristically found in carbonate-rich mudrock.
The Moeraki Boulders, located on a stretch of coastline in New Zealand, are the largest septarian concretions in the world. Believed to have grown over a span of four million years, they only began to appear because of the eroding coastal cliffs.
One area for septarian concretions is along the Gulf of Mexico, into inland Southern Utah. Other specimens have been seen on the shoreline of Lake Michigan, as well as in New Zealand, England, Morocco, and Madagascar.
The price of septarian varies depending on shape, size, and pattern. Septarian isn't necessarily rare and is reasonably accessible. While smaller samples are more abundant, larger specimens with impressive eye appeal are rarer — especially when cut as a giant egg or slab.
Septarian jewelry, it can be as affordable as standalone specimens. A septarian necklace or ring can cost you around $50 or less. However, some of the more lux metals will naturally fetch a higher price tag.